The products used for this project were generously provided by Country Chic Paint but the genuine (and once in a while witty) opinions expressed are completely my own.
Remember these German glass glitter knobs that I made a little white back? (see how they were made here) Well, I finally get to show you the piece they were made for! This project was originally created for Country Chic Paint (see the first one I did for them here) using their products and I had to wait until they revealed it on their website before I could share it 🙂
Now it's my turn to show you how it all turned out…
Sorry, this is not the best before picture, but hey, you get it the picture… it was U-G-L-Y.
To recreate this piece I wanted to do something light and airy that had a hint of sophistication and beauty. I love the look of blue and silver together (since that is basically the colour scheme of my house!) so wanted to do that for this piece.
I chose Country Chic's All-in-One Decor Paint in Icicle and I can't begin to express how beautiful this colour is! It is soft and feminine and I knew it would be the perfect backdrop for the silver knobs.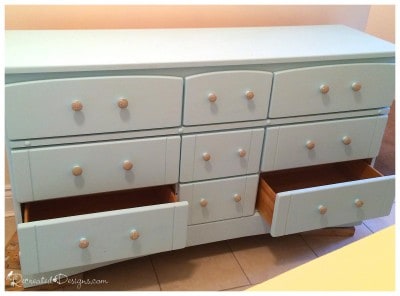 I painted the dresser and the drawer with two coats of the Icicle paint and then added the knobs. Blue and silver are such a classic colour pair and they played off each other wonderfully.
To add a little of the silver shimmer to the entire piece I mixed some of the Country Chic Natural Wax and the Metallic Cream in Silver Bullet and rubbed the mixture on with a soft cloth. By making a paste of the two products it added just a hint of silver shimmer without it being too overpowering on the blue.
To finish piece off, I added a little Country Chic White Wax to tone down the silver wax and to highlight the drawer fronts. I have used the White Wax before and absolutely love the soft glow that it gives to pieces. It was the perfect product to finish off this airy blue dresser.
I am so happy with the transformation of this piece and the classic beauty that the blue and silver bring to it. I also truly can't say enough about how much I enjoyed working with the Country Chic products and can't wait to show you the next project…