by Heather Lloyd
Next up in this heirloom revival project were three travel-stained suitcases that emanated such malodour as to make one wonder the nature of perishable that had been mistakenly forgotten or entrapped and left to decompose at leisure.
My father had been a pilot in the Royal Canadian Air Force, and by the time I was born my family had lived in many different places around the world. It is ironic, given my father's career, that I would never set foot on an airplane until several years after his death. My father retired from the military when I was a baby, and he would tell us he got tired of travelling and living out of a suitcase. This never sat well with me, as I felt I had missed out on all the excitement my parents and older siblings enjoyed while living abroad.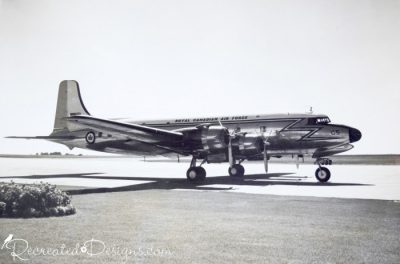 The not insignificant exception to my diminutive list of travel adventures, was our family's annual road trip to Nova Scotia. My parents grew up in adjoining small towns in Pictou County, Nova Scotia, and each summer they would pack us all up in the old family station wagon, dog included, and head east for two weeks. The trips were a chance for us kids to get to know our extended family, and for all of us to bask in the beauty of the Maritimes. While the casual observer might argue that a 17 hour road trip with no air conditioning to an obscure small town paled in comparison to a trip to the French Riviera (yes that was where my family vacationed while abroad), for me, those trips were the most magical part of the year. Without question, that time spent in Pictou County was even better than Christmas (if you didn't count the presents, that is).
As soon as school ended in June, my little brother and I – and any older siblings who didn't have summer jobs and wanted to come along – would start counting down the days until we could go away. The sound of dad bringing the family suitcases upstairs marked the real beginning of vacation time. There was a thin white suitcase, into which my mother would pack dishes and kitchen sundries, a yellow one with brown trim that was for dad's things, and two green ones. Mom would take the smaller green one, while my little brother and I had the big one to share. Suitcases in those days did not have zippers, rather, they came with these metal fasteners that would flip open with the push of a button. Like Christmas stockings or Halloween decorations, the suitcases only came out once a year, and only for a very short time. Just packing our suitcase was a treat for me, I would always try to follow my father's example of neatly arranging everything I wanted to bring on my bed and then going through it all again to take out things I wouldn't need. But inevitably I would decide I needed more rather than less, so would set to work first bribing my brother for some space on his side of the suitcase, and then cajoling my mother into letting me pack more in hers. (And of course every year most of the items I brought on the trip were never even unpacked.)
When I first looked at the suitcases after all those years, I felt the urge to click one open (and when I gave in to the impulse I regretted it immediately for the smell that wafted out). I remembered the old cottage we would rent on the bluff by the ocean, and the clams we would dig each day when the tide went out. I flashed back to the evenings we would arm ourselves with flashlights and trek over to the campground's canteen for a can of pop and a game of pinball with the other campground youth. (Something about being in Nova Scotia made my father's "no junk" rule go out the window, and we would revel in the tastes of C-Plus orange soda and Hires Root beer.) On sunny days we lived at the shore. I remembered my mother and her sister, laughing together in their big floppy hats, sitting on a blanket in the sand, watching us kids build sandcastles and brave the chilly Atlantic waves.
For me, the suitcases carry beautiful memories of our carefree summer holidays, when we were surrounded by love, and every day was an adventure. Those trips were precious gifts my parents gave us.
My biggest concern when I showed Lisa the suitcases, was that they would end up looking like stage props. While I have no problem with other people who choose to decorate that way, I myself have seen far too many amateur musicals to want to copy the effect. I did not care whether they would need to be altered, as they were in pretty rough shape. But I honestly could not imagine what to do with them that would make me want to put them out on display. I decided to put my faith in my friend.
"Lisa," I told her with a shake of my head, "just do what you can." She didn't say much, and I set my expectations low. I knew that whatever she came up with would be nice, but I still just could not imagine how they would turn out. What she did far exceeded my expectations.
She used three of the suitcases and made a table of sorts, (see the original post) using some retro-looking legs that really matched the style of the suitcases, and two strips of ribbon that were reminiscent of old fashioned strapping. The thing I liked the most, however, was that she did not paint them. Instead, she used a dark stain, and allowed the colour to seep into the material and dry onto the trim and handles. It created cohesiveness in terms of colour, and the stain allowed each suitcase to maintain its own uniqueness. Nothing felt "covered up."
Shortly after Lisa showed me what she had done, she put a post about the suitcases on her website. The response was incredible, as tens of thousands of viewers affirmed what an amazing job she had done. Lisa understood the essence of what those suitcases meant for me without my ever having to explain… and she created an extra special wrapping for all those precious memories.
Join us next week for the story of the antlers!
Missed last week's Furniture Stories about the TV Trays? Catch up here…