I have had these pine IKEA drawers for a long time. They were never my favourite, but they provide convenient storage so I have always hesitated to get rid of them.
At some point I gave the boring drawers a coat of cream coloured latex. Still never liked them though.
Last week I finally had enough of them and decided to give them a makeover.
My intent was to stain the drawers a dark colour to mimic a nice rich wood and then paint them with Milk Paint. I imagined the Milk Paint being really chippy so it showed the dark stain underneath.
For the makeover, I began by giving the latex a light sand. I wasn't sure how well the stain would adhere to the latex so wanted to give it a little tooth.
To give the wood the rich colour I wanted, I brushed on a layer of General Finishes Gel Stain in Nutmeg.
I used a chip brush to apply the stain. The bristles on a chip brush are thin and loose and helped to give the stain a streaky, old and worn look.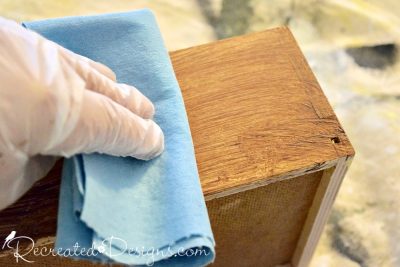 A quick wipe with a shop towel got off the excess easily. The stain adhered to the painted pine beautifully.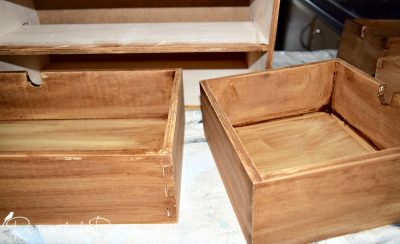 At this point, my plan was to paint the drawers. I was just going to use the stain to give the appearance of dark wood under the chippy milk paint.
As it dried though, I was loving the look of the stain.
Letting the stain pool up a bit in the corners just added to the charm and made it look like it had been there for years.
I couldn't believe how different the stain made the boring little drawers look. The more I stared at them, the more I loved the aged look they had now.
The drawers were actually dovetailed so I turned them backwards to make it visible. Once they were turned, some vintage hardware completed the old, antique look.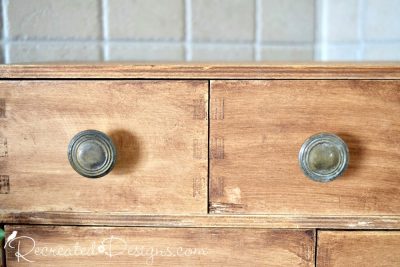 Oh man I love that old hardware ♥ Having a collection of it to use on projects like this makes me so happy!
I would not have guess when I started that I would end up with storage that I looove so much. They look 100 years old now and have such a gorgeous vintage feel. I am so glad I gave these little IKEA drawers one more chance!
Pin for later…
**Please note that this post includes Affiliate links for your convenience. All links are for products that I have tried and use regularly. By using the link, it in no way increases the cost of the item to you. However, by using the link, a small portion of the sale is given back to help fund this blog.**
Save