While I am still busy trying to sort, purge and reorganize my house, I took a little time off this past weekend to make a cute Halloween countdown calendar.
I had an old metal tray that I found at the dump store this summer and thought it would be fun to turn it into a pumpkin.
The tray got two coats of Annie Sloan Chalk Paint in Barcelona Orange… the perfect pumpkin orange 😉
Before adding the face, I traced it out in pencil. I usually do this to make sure everything is spaced and designed the way I like it before committing to paint. Once I was happy, it was filled in with Country Chic Paint in Licorice.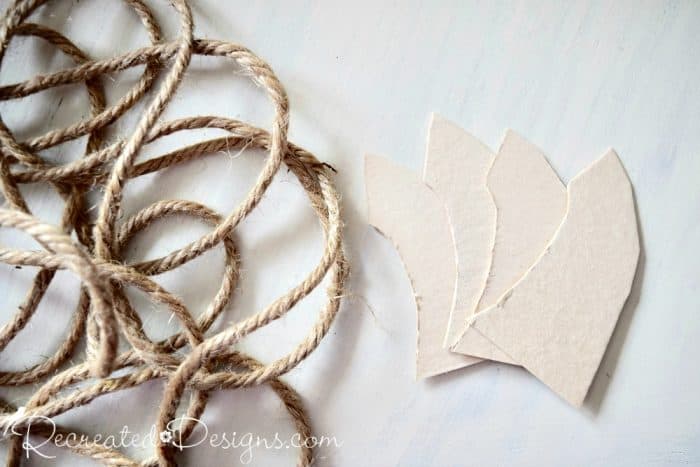 To make the stem of the pumpkin, jute rope was wrapped around some stem cutouts. The jute added a great rustic touch and looked great.
I found the coolest way to make the vines and I have been itching to try it.
Four lengths of the jute rope were cut (about a foot long each), then soaked in some white glue.
As the gluey rope lengths began to dry, they were each curled around something about the size of a finger. Just before the glue was fully dry, they were pulled off and allowed to finish drying on a piece of wax paper.
The glued jute ended up crunchy and crisp when it was dry and the "vines" looked so cute.
Since I wanted to add a countdown to Halloween on the metal tray, I glued a little dried flower (that looks like a pumpkin) onto a magnet.
By the way… does anyone know what these little dried flowers are?? I looove that they look like tiny pumpkins but I have no idea what they actually are…
The little magnet and flower are just the right size to move along the countdown numbers.
The best part of the Halloween countdown pumpkin? It can also be used as a memo board since it is metal. How handy!

Now… back to sorting out my house 😉
Pin for later…