Have you ever refinished a piece of furniture?
If you have followed along my painting journey, you will know that I LOVE taking something that is deemed as trash and bringing it back to life. Sometimes that means upcycling a piece and sometimes it means restoring a piece.
Restore vs Upcycle
Restoring means to take something and honour its past by bringing it back to life, thus bringing up its worth and value.
Upcycling means to take something that is basically sad, dead, or worthless and turn it into something new. Usually that something new will be something other than its intended original purpose.
Both restoring and upcyling have their place; sometimes a piece is begging to have its story heard while other times a piece is longing for a new life.
This piece, that I found at the dump store (check out a few other cool things I have found there… here and here and here ) this summer, was crying to be restored.

The top was incredibly damaged buuut I could see that there was some beautiful wood living under that flaking, chipping finish. Wood that was just begging to brought back to life. And, not only was the wood gorgeous but the dresser had its original wheels and hardware!
This dresser, even though it was in pretty sad shape, still had a lot of life in it as a dresser. It just needed cleaning and a little paint. It didn't need to be turned into something else, it was perfectly great as a dresser.
When I found the dresser, I could have spent time turning it into something else, like a bookshelf or TV stand, but this dresser was so pretty that I just wanted to continue on as it was.
Restoring the piece…
To restore the gorgeous wood on the top of the dresser, I sanded it down and applied two coats of General Finishes Gel Stain in Java. To seal it and create a beautiful finish, it got two coats of General Finishes Gel Top Coat.
For the paint, I used Miss Mustard Seed's Milk Paint in French Enamel and let it chip and flake as it wanted. I absolutely love how milk paint chips and flakes at will. It always helps to recreate that authentically old look.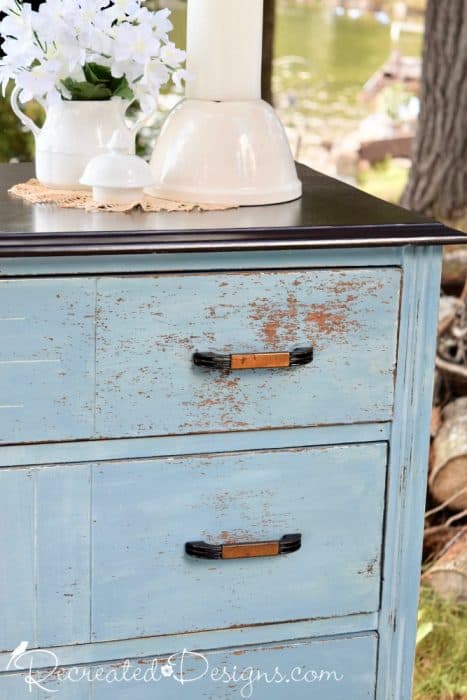 As for that stunning copper hardware? All it got was a cleaning with good old soap and water. It was beautiful just as it was.
Like all of my furniture pieces, I painted the inside of the drawers. They always feel so clean and fresh to me with a new coat of paint. These were painted with two coats of Miss Mustard Seed's Milk Paint in Ironstone.
I feel like I have done this beautiful piece justice by restoring the beauty I know she always had.
What do you think?
Would you have restored her or upcycled her into something completely different? (ps – there's no right answer… you just do what speaks to you!)
**Please note that this post includes affiliate links for your convenience. All links are for products that I have tried and use regularly. By using the link, it in no way increases the cost of the item to you should you choose to purchase. However, by using the link, a small portion of the sale is given back to help fund this blog. Thank you! **
Pin for later…
Happy painting!