Happy First day of Spring!!! 🌺Yay!! It seems like it has been a long time coming this year so just had to say that first and foremost.
Did you catch the post a couple of weeks ago on the old window I found at the dump? (if not, you can see it here) Well, not long before I found that window, I found a set of these beauties below.
They weren't as old as the window I stenciled but I really loved their shape and size. They were probably off of a vintage cabinet or bookcase and boy were they dirty!
I only needed one of the windows for this project so I still have another one waiting… patiently… (anyone have any good ideas?!)

Using old, vintage windows like this is an excellent way to create some inexpensive art for your space. They weather well when painted so are perfect for an outdoor space to not only add a pop of colour but create some privacy if needed as well.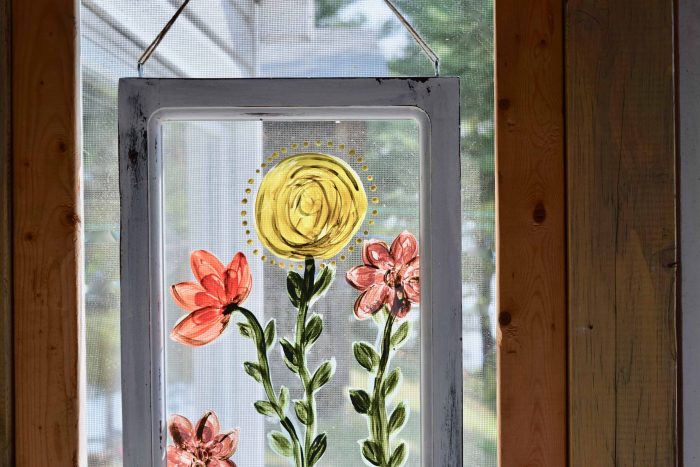 To transform the window I found, I gave it a good scrubbing with soap and water and then lightened up the frame with some Country Chic paint in Simplicity.
On the glass, I simply painted some whimsical vines (that kind of remind me of seaweed) and flowers since it was being hung at our cottage by the lake. You could add just about anything that strikes your fancy though… words, a flag, butterflies, birds… anything really.
Hanging the window couldn't have been easier either. Two eye hooks, some twine, and a nail, and it was hung and ready to go.
I love how the paint allows the light to still come through yet adds a hint of privacy and the colours look different depending on the time of day.
Another great, free find from the dump store turned into some unconventional.
Now I'm just itching for the warmer weather to arrive so I can get back to the cottage and start checking out the dumps for new treasures…
Pin for later…