Since most everyone will use some sort of furniture/home decor paint for their projects, knowing the difference between brands and what each type does can be very helpful. Today, in the next installment of the Back to the Basics series I am sharing all about paint.
When working with furniture/home decor paint these are the most common types that are used…
Chalk Paint
True chalk paint has no latex or acrylic in it. It does a great job adhering to just about any surface so requires very little prep. It does need a top coat to seal it though to protect the paint and surface.
Milk Paint
Milk Paint also has no latex or acrylic in it and has been around for thousands of years. It is typically made up of only a few ingredients and comes in powdered form that you mix yourself. Milk Paint will give you a truly authentic look and will chip and flake if you want it to. You will need to add a top coat to seal it and it makes a great stain as well as paint.
Mineral Paint
The mineral in Mineral Paint usually refers to how the paint is coloured – using natural pigments or minerals. It is typically a water-based acrylic paint that may or may not need a topcoat depending on the brand. Surfaces need to be cleaned and given a light sand to prep them before painting.
Acrylic Paint
Most acrylic paints are water-based and become water-resistant when dry. They tend to dry quickly but do require that you prep your surface well to aid in adhesion.
Latex Paint
Latex paint is also a water-based paint typically made from acrylic resin. It is usually used for larger areas as it is cheaper to produce and easier to clean.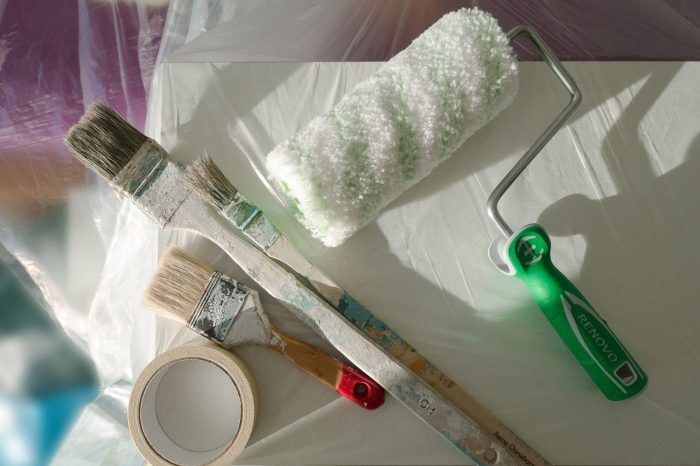 Some common brands of furniture/home decor paint…
Chalk Paint
Annie Sloan Chalk Paint
Milk Paint
Miss Mustard Seed Milk Paint
Milk Paint by Fusion
Homestead House
Old Fashioned Milk Paint
Mineral Paint
Fusion Mineral Paint
Country Chic (clay-based)
Dixie Belle
Latex
Rustoleum
Sherman Williams
Behr
Benjamin Moore
Acrylic
Fusion Mineral Paint
General Finishes Milk Paint
A few little random bits…
The only true chalk paint is Annie Sloan Chalk paint. She has actually trademarked the Chalk Paint name so when you hear reference to Chalk Paint, they should be talking about Annie Sloan. Many companies have copied her now though and offer "chalk-style paint" but most of these knock-offs are latex paint with chalk added to give it a textured/chalky finish.
Latex paint does not need a topcoat since it has one built-in.
Fusion Mineral Paint is an acrylic paint and does not need a topcoat. However, if you are using it on a high traffic area (table/dresser top, chairs, etc…) it can scuff easily so a topcoat will help protect and prolong the life of the paint.
Chalk Paint or Milk Paint sand beautifully if you are trying to achieve a distressed look. The lack of latex and acrylic means that when you sand them, they will go back to powder form and give you an authentic look.
Almost all paints take approximately 30 days to cure. During that time, the water is evaporating out of the paint and as it does, the paint becomes harder and harder. During the cure time, be gentle with the painted surface.
I hope this provides a little overview so that you feel more equipped to choose the right paint for your next project.
If you missed any of the first Back to the Basic series posts, you can find them here…
Pin for Later…