I really can't believe that we are already nearing the end of August and that fall is just around the corner! Why does the summer always seem to fly by so quickly?? Are you feeling like it flew by way too quickly too?
We just finished up this month's Junk Into Gems Challenge and the item of the month for August was baskets. I was "gifted" this old basket and even though the handle is wonky, there was still lots of life left in it. It was the perfect choice for my project this month.
The Paint
The basket transformation began with a coat of Annie Sloan Chalk Paint. I wanted a paler orange for this project (and not a bright pumpkin orange) so I mixed two colours; Old Ochre and Barcelona Orange. The two together created a soft peachy colour perfect for late summer and early fall.
The Handle
To add some texture and rusticness to the handle, it was wrapped in thick jute twine. I used hot glue to attach one end to the back of the handle and then wrapped it around until I reached the other end. That end was secured to the back of the handle with hot glue as well.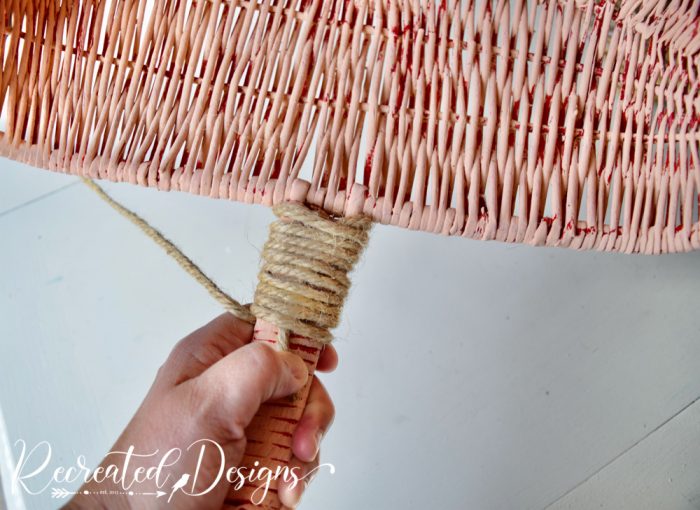 A few foot-long pieces of the same twine were tied around one side of the handle to create cute little vines.
The Face
To take my basket up a notch, I painted a jack-o-lantern face onto the side of the basket with the jute vines. A small artist's brush was just the right size to outline and fill in the face.
Adding Fall Flowers
The finishing touch for this simple fall project was some beautiful Mum plants. The basket was just the right size for two small pots.
This was such a quick project and cost next to nothing. Turning this basket into some fun fall decor was a great choice for the Junk Into Gems Challenge. The basket was given a new life and there is now one less basket that will end up in our landfills!
If you have not checked out the Junk Into Gems Challenge yet, I would love to have you join me. We have already worked to save old frames and baskets from the trash and will be adding a new item to our list on September 1st. To find out more about the challenge, click here…
Have you made anything out of an old basket lately? I'd love to hear about your creation!