I've had this vintage floor lamp for a while now and even though I have loved the colour of the base, I wanted to change it up and give it a fresh look. The lamp was still in great condition so there was no need to get rid of it so I pulled out some paint and went to town.
I gave the stand of the lamp two coats of Country Chic Paint in Liquorice. Liquorice is a nice matt black that I have used before (here) and it was the perfect colour to give the lamp a more modern feel.
The lamp base has all kinds of gorgeous crevices and scrolls so, to highlight those, I brushed on two coats of furniture glaze in Graphite.
The glaze added a lovely light sheen to the base but also brought out all of the beautiful crackles in the finish. I love the texture you can see once the glaze was added!! So pretty!
It also added just enough of a reflective finish that when the light bounces of it, it shows off all of the beautiful details.
The shade was also still in good condition so instead of replacing it, I just added a little trim to highlight its curves.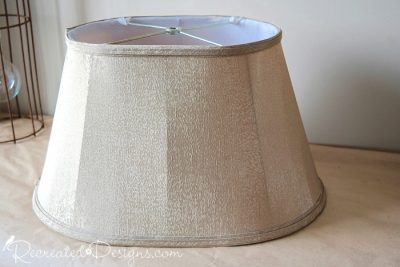 I used a hot glue gun to add-on this luxurious velvet trim. Adding it to the top and bottom was just enough to add a touch of elegance and tie the black colour through into the shade.
Even though this lamp didn't need a makeover, I love that just a little paint and trim changed up the look completely. It was pretty before and it's pretty after… just a different pretty.
Makeovers don't always need to be drastic transformations and just some little changes can be enough to transform the look of a piece or room.
The littlest projects sometimes have the biggest impact. At least in my world 😉
Linked to:
{Across the Blvd} {Home.Work} {Lou Lou Girls} {My Husband Has Too Many Hobbies}
{Sand & Sisal} {Silver Pennies} {Skip to my Lou} {The Chicken Chick}
{The Crafty Blog Stocker} {The Kolb Corner} {The Stonybrook House} {Worthing Court}
Save
Save