Happy Sunday everyone! I hope that you are enjoying your day.
A couple of weeks ago I was in Quebec City for a few days and spent some time at the amazing German Christmas Market. I promised to show you more pictures of Old Quebec and thought this quiet Sunday was the perfect chance to take you on a little virtual trip.
Old Quebec City
Old Quebec City is an area within Quebec City that was settled around the beginning of the 1600s. It is the old area of Canada and the only walled city in North America.
Stone Buildings and Shops
The stone buildings and mercantiles that line the cobblestone streets are breathtaking in their beauty and history.
The area has been UNESCO world heritage site and still has a mix of local residents, restaurants, and quaint shops.
Lower Town and Upper Town
The Old city has always been divided into two areas; Lower Town and Upper Town with a natural, steep embankment dividing the two.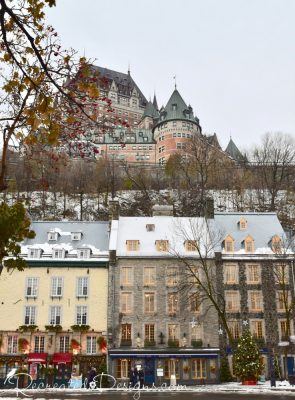 Luckily, if you are not able to (or don't want to!) walk up to the Upper Town, there is a Funicular that will provide a ride up or down. It has been running since 1879 and offers a spectacular view of the Lower Town.
Christmas
The entire is always beautifully decorated for Christmas and it feels as if you have stepped back into a quieter, simpler, much, much older time.
If you ever have a chance to take a trip here you won't regret it. It has the feel of a quaint, old European village and all of the charm Canada has to offer.
I have a few more pictures to share with you of the area lit up at night but will save those until closer to Christmas.
Have a wonderful Sunday!