This summer I have been finding some pretty cool things at our local dump "store". (and I'm already growing sad about the coming winter when I won't be able to get there!)
As I was perusing the treasures on a recent visit, I saw this glass vase and old light globe way up high on a shelf. They were covered in dust and had both obviously been there for quite some time. They weren't together but I kept looking between the two thinking they should be.
The shape of the vase was just so pretty and the light globe reminded me of an acorn. Hmm…
Not long before I found these beauties, I had received a packet of Fusion Fresco that I had been itching to use and these dump pieces had me thinking…
Fresco is a new (super easy!) product from Fusion that adds texture to your paint.
For this project, I wanted to add some texture to the vase so that it had that old-world feel to it. Like it was plaster.
To clean up the pieces, before painting I just used a little soap and water. They then both got a base coat of Fusion Mineral Paint in Casement.
To prepare the Fresco I sprinkled it into some of the extra paint. I wanted the vase to have quite a bit of texture so made my mixture pretty thick. You can add as much or as little as you want, just remember that it will thicken up once the paint soaks in. Start light and keep adding the Fresco if it isn't thick enough once it's absorbed.
Once the mixture was the consistency I wanted, I painted it on over the original coat of Casement.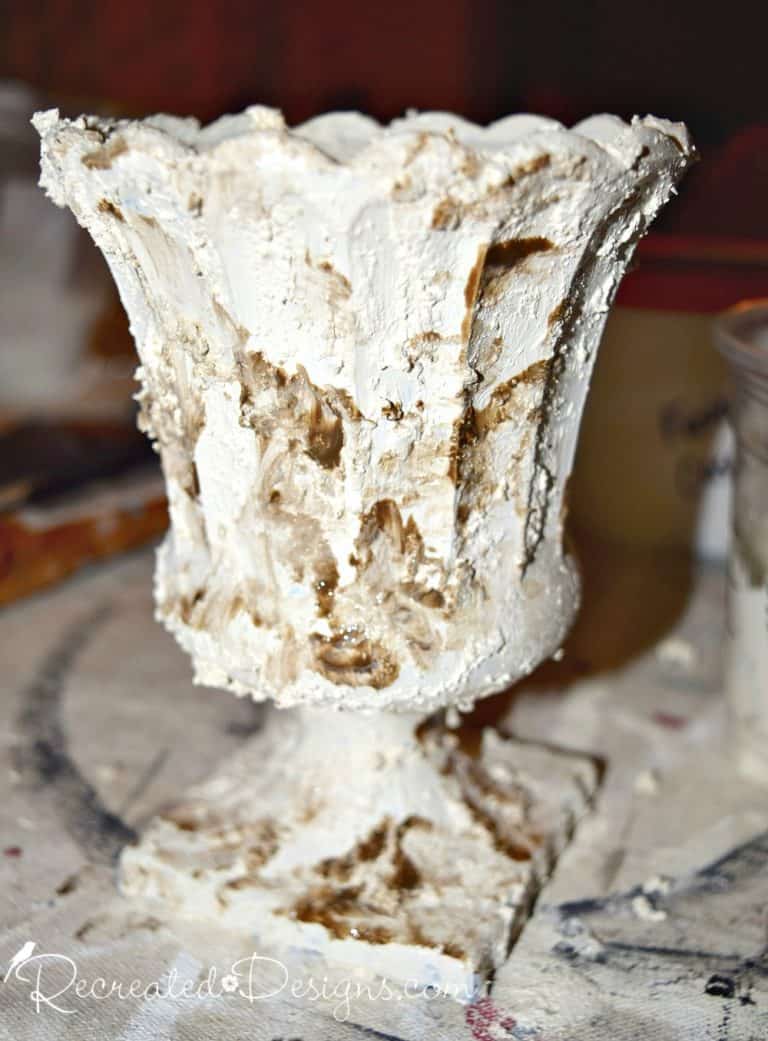 You can see in the above picture that I added a lot 😉
While it was still wet, I also dabbed on some of the Fusion Antiquing Glaze. The dark glaze will help once it's dry to add some depth and age spots.
Using a piece of sandpaper, I sanded off the edges and points and make it a little more smooth once it was dry. It was then finished off with another light coat of the Casement paint.
For the "acorn" on top, I followed the same process only without the Fresco. The light globe already had the perfect texture so I left that as is.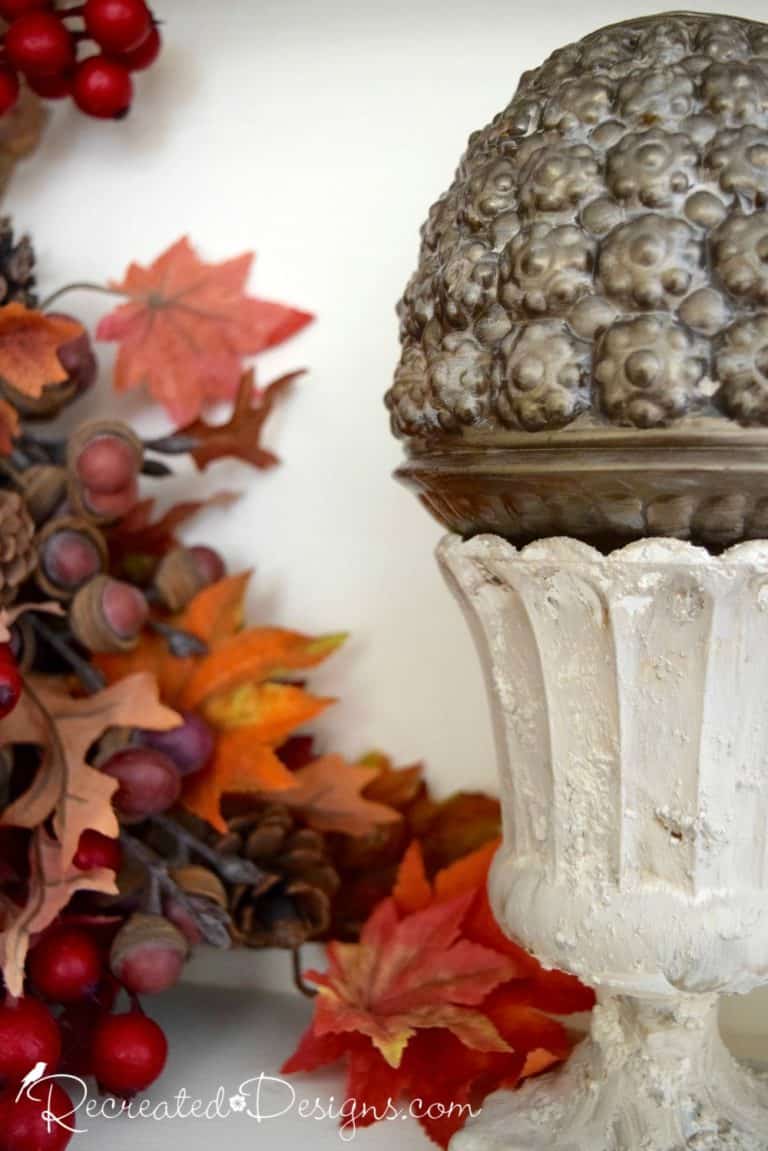 I love these two glass pieces together. I don't know where they lived in their former lives but they are now a beautiful addition to my shelves.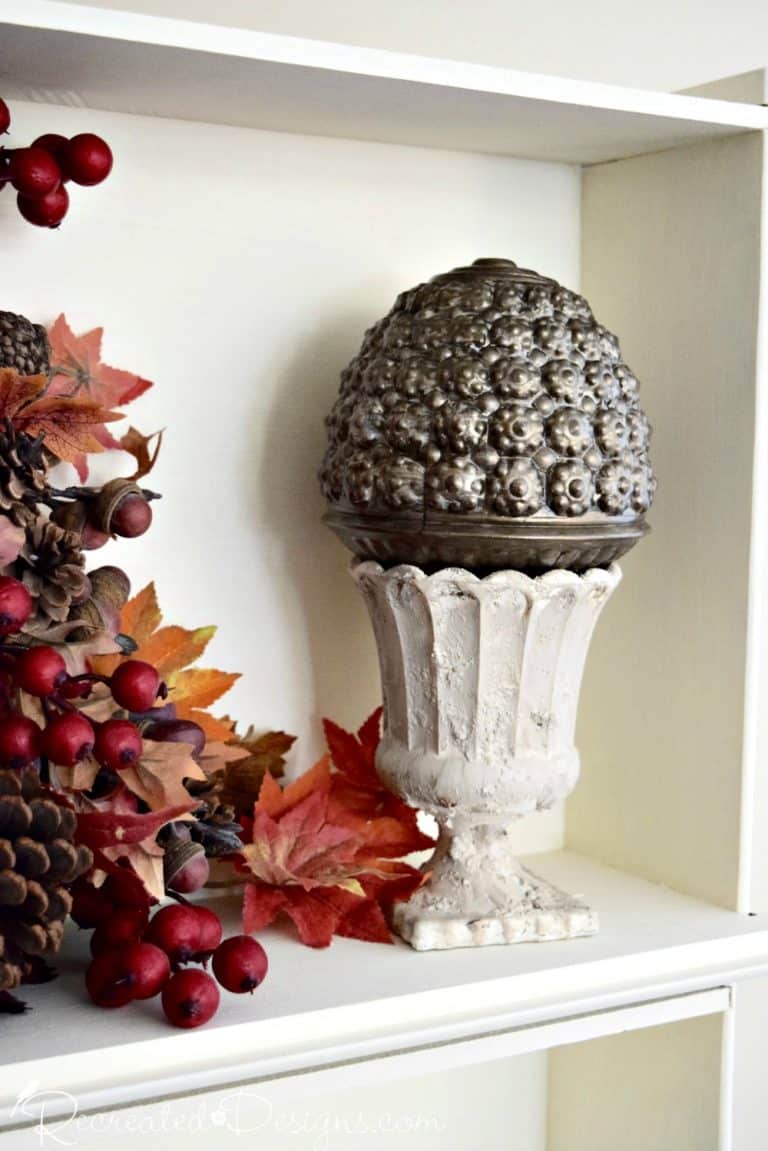 Tw0 dump store finds and a little Fusion Fresco made the perfect combination to create some beautiful new Fall decor.
Don't forget that next Tuesday I will be continuing the "Paint the Colours of Fall Series" with a Yellow week. And let me tell you… there are some gorgeous yellow furniture pieces out there in Ottawa right now! See you then.
The Fusion Fresco used for this project was generously provided by Fusion Mineral Paint.
Linked to:
{Charm Bracelet Diva} {Home.Work} {Joy In Our Home} {Redo It Yourself Inspirations}
{Sadie Seasongoods} {Silver Pennies} {Simple Nature Decor} {Skip To My Lou}
{The Crafty Blog Stalker} {The DIY Dreamer} {The Kolb Corner} {The Stonybrook House}