Last weekend I had a rare weekend off so my sister and I hit the road. For today's #simplySunday post I'm sharing some of my finds.
If you have followed along for a while, you know one of my favourite places to find vintage pieces are the "dump stores" around our cottage. We decided that would be a great place to start our little trip around the Ottawa Valley.
The dump stores in the winter aren't nearly as busy as in the summer but we still found some great things. I am not surprised there were so few people becuase after about 2 minutes in the unheated buildings, we were already frozen! And by frozen I mean, down to the bone, can't warm up, frozen. It wasn't even an overly cold day, but we still felt like we were looking for treasures in a meat locker.
Enduring the cold was worth it though. I found some things that warmed my heart 😉
I love collecting white dishes and found this random pile of English and French ones.
Finding Ironstone makes my heart skip a beat and even though these weren't, they were still pretty and lovely enough to grab.
I found two small vanity drawers and one larger one. They have beautiful dovetailing on them and will be perfect for storage and organizing. The piece they came from was broken beyond repair so they had been left for someone who could use them as is.
At one of the dumps I dug out this gorgeous wool wrap from a box of linens. The colours instantly drew me too it even before I knew what it was. Turns out it is a vintage wrap that was hand-woven in Ireland. It is in great condition and just needs a wash to freshen it up.
Vintage kitchen ware is another favourite of mine. I always grab these metal pans whenever I see them because they are fantastic for so many different reasons. The same goes for anything wooden like these spoons. They look so nice grouped together in a white jug ♥
After our round of dump stores, we went to a few of my favourite thrift store jaunts. At the first one, my sister found three vintage paint by number paintings and I instantly tucked them under my arm. There is something special that speaks to me when I see these vintage amateur paintings.
I found my first one last year here and have been searching for more ever since. I will share more about my love for these soon in another #simplySunday post.
My biggest find of the day, and maybe the most exciting… ok, who am I kidding, it's all exciting to me 😉 was this Art Deco bookcase. It was a bit on the expensive side but I couldn't resist. These old bookcases are so versatile. It is just the right size for any number of things; linens, books, dishes.
I had every intention of painting and selling this one but, in the week since I brought it home, I am pretty sure I have convinced myself that I NEED to have it in my Master bedroom 😉 We'll see…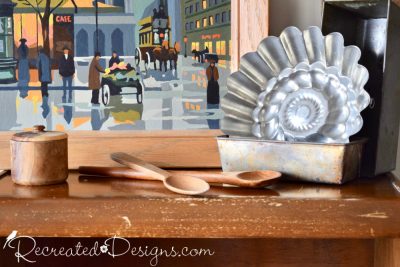 I am so thankful I had some time last weekend to head out on a little mini-day-away. Not only did it provide a nice time to hang out with my sister, but it always does my heart good to spend the day hunting for things I love ♥
I hope that you have found some time lately to do the same!