I love the ocean! I mean L-O-V-E the ocean. I would spend all of my time there if I could. Unfortunately, I live a good 7-8 hours, at a minimum, away from it now. When I lived in Boston for seven years I was only three blocks from it and I was in Heaven! There is something so beautiful about the smell of the salt air, the sand between your toes and the wind whipping through your hair ❤
In June, I had the opportunity to try out a product called Saltwash for our Fab Furniture Flippin' Contest. Saltwash is soo cool! You can literally mix it with any paint and it gives your piece the feel of something that has been sitting in the salt air for years.
To turn this 1980's table into a beautiful beachy piece all I needed was a little Milk Paint and some Saltwash.
Saltwash looks the most authentic when you use at least two colours of paint. Since Saltwash can be mixed with any paint, I chose to use Miss Mustard Seed Milk Paint in Eulalie's Sky and Farmhouse White.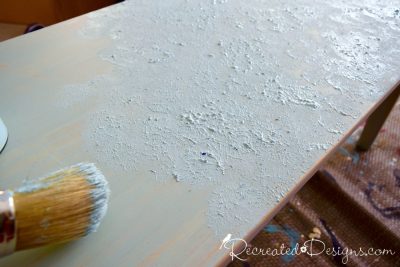 Once the table had a coat of the Eulalie's Sky, I mixed up a batch of the paint and Saltwash. This is the fun part! You want to glob on the paint and leave lots of peaks as these are what create the beautiful effect after you apply the next coat of paint. To get the full directions on using Saltwash, check out their video here… (They do a great job explaining the entire process!)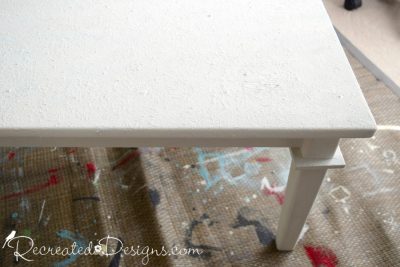 Once the layer of Saltwash and Eulalie's Sky was dry, I painted it with a coat of Farmhouse White. After it was completely dry, I started sanding down the surfaces. As the white was sanded off, the blue began to show through.
It really did begin to look like a piece that had been at a cottage by the sea for years and years.
The texture is simply gorgeous!
I love that the table looks white from a distance but, as you get closer, you can see the beautiful sea blue peaking through.
I had so much fun with this product. My mind is already reeling with all of the fun possibilities of what to use the Saltwash on next!
To see some more beautiful projects using Saltwash, pop over to 58 Water Street and thirty eighth street.
To get more information about the Fab Furniture Flippin' Contest, please email [email protected].
The product used for adding texture was generously donated by Saltwash.