Damaged furniture can look old and tired. Even when the furniture is vintage and/or solid wood, it can look like it has seen better days.
People often give these tired pieces a paint job to make them look better. Sometimes though, you want the piece to keep that old, vintagey look even when you're trying to spruce it up.
The Vintage Coffee Table
We have this old coffee table at the cottage and boy it has seen better days. It has been a workhorse of a table for years and years and was in desperate need of a refresh.
Everything about this little table is beautiful… except the damaged top. The legs are lovely, the sides conveniently fold down, and it has a beautifully slim profile.
It was long past time though for this table to be made over.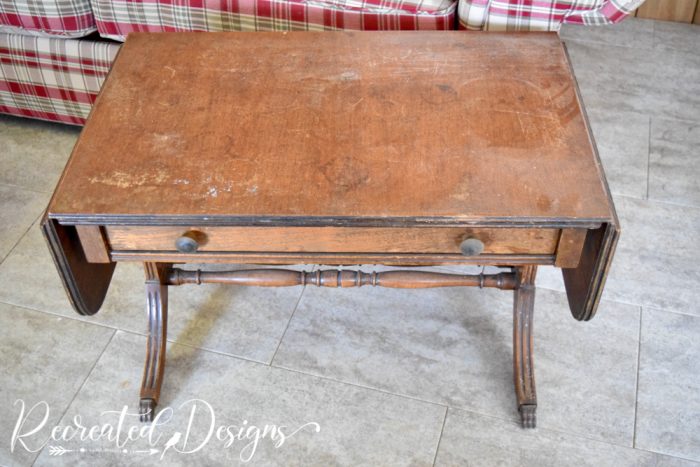 The Old Feel Makeover
We all love this table and even though it was in need of a paint job, we didn't want to lose its vintagey feel. The answer for the makeover… milk paint. You know I love milk paint (and chippy paint!) so it was the perfect choice for this table because I knew I could get the look I envisioned with it.
I chose a very neutral colour for this table called Oyster Bar; a Milk Paint by Fusion colour. If this sounds familiar, it's because I used the same colour for my Master bathroom here…
The reason I chose milk paint for the table is that it flakes and chips naturally. I love chippy paint and it instantly makes a piece feel old and worn.
With just two coats of the Oyster Bar, it started to flake almost instantly on the sides of the table.
Within half an hour of applying the paint, I was able to lightly sand it. The medium grit sandpaper took off the flaking paint and left this gorgeous chippiness that looks a hundred years old.
Finishing the "New" Vintage Look
Once I had the flaking paint sanded off, I did a little additional sanding on the edges. By sanding the edges, it takes off the paint in the spots that would naturally receive a lot of wear over time. This makes the paint job look authentically old even though the paint is new.
If you are new to distressing, check out this post here on how to make it look natural.
With the sanding done, I applied two coats of my very favourite furniture wax over the entire piece. The wax provides a great topcoat when cured and nourishes the wood as well.
If you have not tried Fusion Lavender furniture wax, you are missing out. This is my favourite wax for a few reasons. It not only smells heavenly but is soft and creamy which makes it incredibly easy to apply. Compared to other furniture waxes, you won't believe the difference.
If you missed last Sunday's Back to the Basics post about finishes and topcoats where I discussed wax (and other options), you can see it here…
The New Old Look
Even though this table needed updated, I am so glad it still has a vintagey feel to it. The milk paint did exactly as I had hoped and I love how old the table still feels.
Sometimes, even though a piece needs to be updated, keeping that old feel is just as important.
If you have not tried milk paint yet, I hope you will give it a try. That authentically old look you can get from it is just hard to beat.
**Please note that this post includes affiliate links. By using the link, the cost does not increase and a small portion of the sale is given back to help fun this blog. For your convenience, you can also find all of my favourite DIY products here. Thank you and Happy Creating! **
** It's Starting Soon! **
Don't forget that the new Recreated Designs Junk Into Gems Challenge starts July 1!
If you love to repurpose, refresh, or upcycle old things, this challenge is for you!
Find all of the details here…