Do you know that feeling when you are at the thrift store or a garage sale…
the feeling of wanting to bring it all home with you?
I have this problem a lot when I am at the Dump Reuse centres. Like all the time! Especially because everything there is FREE.
It is easy to want to take everything home. To tell yourself that you MAY need whatever it is some time, for some project or another.
It is so easy to have things pile up (and believe me, they do at times at my house) if you start taking everything home with you.
To help avoid this, I ask myself three questions before taking anything home with me; free or otherwise. I thought I'd share them with you today in case you have this same problem umm, I mean desire.
Question #1
Is it useful in its current state?
If the piece can be used exactly as it is in my home or for staging photos, I will consider taking it home.
You have to be careful when asking yourself this though, it is too easy to say yes to this one. If you are always saying yes because it is a colour or texture or style that you love, you will end up having more things in your space than you can contend with. Just because you can use it, doesn't mean it HAS to come home with you.
Question #2
Can it be repurposed into something useful?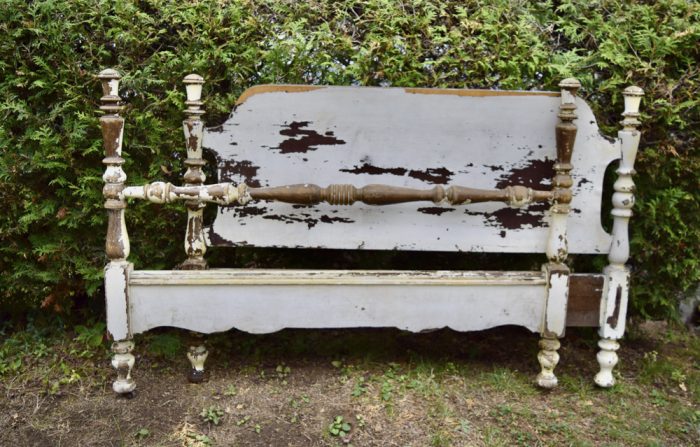 For me, this one is easy to answer because I can always see the potential in things. However, I usually go a step further for this question and add a "soon" to the end of the question. If it is something that can be repurposed soon then it's a go. If it is something that might wait around for a few years, I have learned to make myself leave it right where it is.
Question #3
Does it speak to me?
Now I know this might seem a little crazy, but there are things that I am instantly drawn to. You too? There are items that, right away, I know I have to take home with me. And, there are items I am drawn to, walk away and just can't stop thinking about so go back and grab them.
When it comes to this category of finds, I usually ignore the first two questions and trust my gut.
Exceptions to the Questions
Of course, these are not hard and fast and there will always be exceptions to the questions. Sometimes you may go through all three questions and you still can't decide whether to take it home or not.
If that's the case, you can always take it home and re-donate it later if you decide you can't use it as is or can't repurpose it.
Or do like I do for things that speak to me… walk away. If you are still thinking about it five minutes later, make it yours.
If you are still in doubt, you can check out my tips here for picking good junk.
Remember, before bringing "junk" home, just take a moment to ask yourself these three questions but don't get stressed out over it. Junking and thrifting are supposed to be fun so enjoy the hunt and your vintage finds.