It has been a little while since I've had time to paint and it has been so nice to get back to it the past couple of weeks. I have been working on two different projects that are being donated to charity events shortly. Before the first one heads out the door I wanted to give you a peak.
Helping With Furniture is an amazing non-profit that outfits homes with furniture for those in need in the Ottawa area. I am thrilled to be able to contribute to their upcoming event!
The random table and thrift store chairs
A lovely friend of my moms passed along this table and even though it is an end table, it happens to be the perfect size for a child. Add to that a couple of random chairs I grabbed at a thrift store one time and you have a set that fits like it was made to go together.
Three coats of Country Chic Paint in Vanilla Frosting later and they already looked completely different. Just one of the many reasons I find paint so powerful… random pieces that looked nothing alike now look like they came and belong together.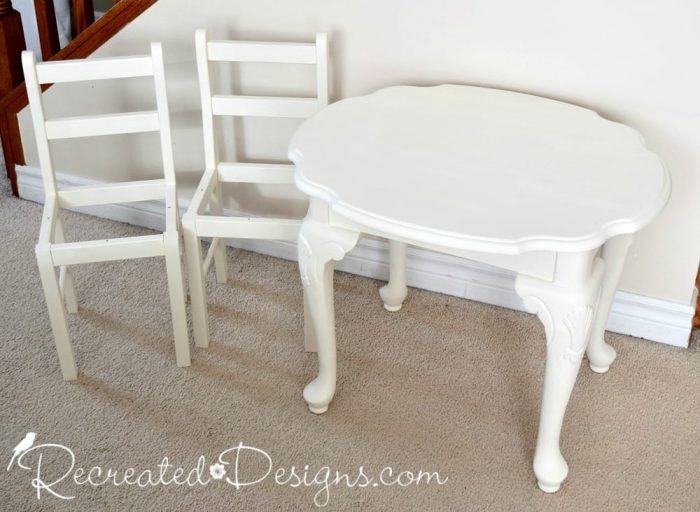 Highlighting the details
When you see the table in its natural oak state, you might not appreciate the shell details… they do look a little dated. However, once they received a little paint and are highlighted differently, what mermaid loving child wouldn't love them?!
To make the details stand out, I used watered down Country Chic paint in Cranberry Sauce. The thinned out paint has a transparent look to it and feels like a beautiful water colour.
Even though the pinkish-red was lovely, it did need some toning down so it wasn't so… new looking. Dry brushing some Country Chic paint in Vintage Cupcake overtop was the answer. The lighter pink, while subtle, helps to define the details and make them even prettier. Like a seashell washed up on the shore.
Recovering the seats
Of course, chipped, dirty seats wouldn't do for such a cute new set so I grabbed a cotton curtain that my nieces no longer needed, added a little padding, and recovered the seats. You can find exact directions on how to recover chair seats here…
What a difference the bright, cheery fabric makes on the little chairs!
I am so thrilled with how this all came together. A donated table, random thrift store chairs, and a cast-off curtain. Alone they are worth nothing but together they are fit for tea with your best friends 💗

Now, this set is off to make some little mermaid and her friends happy while they sip tea by the shore.
I would love to hear your paint stories about what you've created from random goodness! Share them below or post some pics on the Recreated Designs Facebook page and inspire us with your projects too.
Pin for later…