We all seem to have at least one piece of IKEA furniture floating around our homes. While the furniture is great and affordable, it is exciting when you can take a piece of stock furniture and truly make it your own.
Several years ago I painted an IKEA dresser with Annie Sloan Chalk Paint (read about it here) and this time I chose to paint an IKEA tv stand with Fusion Mineral Paint.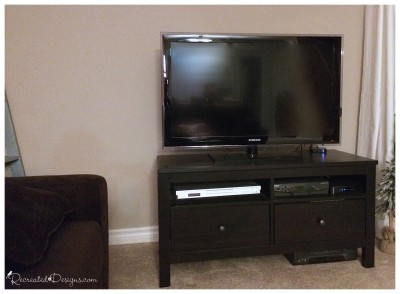 While I love the height of this TV stand, it is very dark and kind of boring looking. I have been wanting to spruce it up for a while and finally made some time to get to it last month.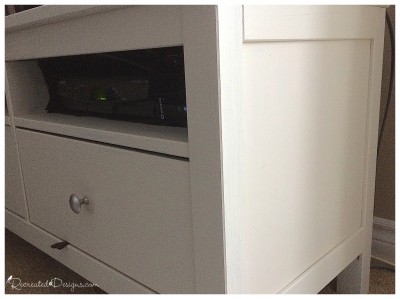 I used two coats of a custom mix of Fusion Mineral paint in Champlain and Casement. I wanted a white that was a little more of an off white and not so much a pure white so blended these two together. The paint covered well and two coats worked to get a nice full coverage over the dark wood.
After the paint was dry, it was still a little to "white" for what I wanted. The fix? I whipped out my handy-dandy jar of Fusion Antiquing Glaze, yet again, and went to town.
The glaze added a soft warm tone to the piece and added depth and contrast. Have I mentioned how much I love this stuff??
To finish the look off, I took the old hardware and gave them a quick coat of Silver Leaf Rub n' Buff. The Rub n' Buff softened down the dark black hardware so they blended in with the piece.
With just a few coats of paint, I was able to continue to use a piece of furniture that I already owned and give it a completely different look.
The TV stand now has a much softer look to it and makes the entire space feel lighter.
Man, I love paint!