I picked up these vintage spice bottles a few weeks ago when I was in New York for the Country Living Fair. When my mom saw them laying in a dirty old box at a barn sale, I instantly remembered my grandmother having some like this in her kitchen. Isn't it funny how something so little and insignificant can take you right back?
I had been on the lookout for little glass jars to make into vases and these were the perfect size! They were still in great shape, and, because they were made of glass, had help up very well… even their original labels.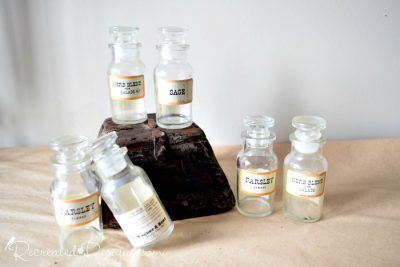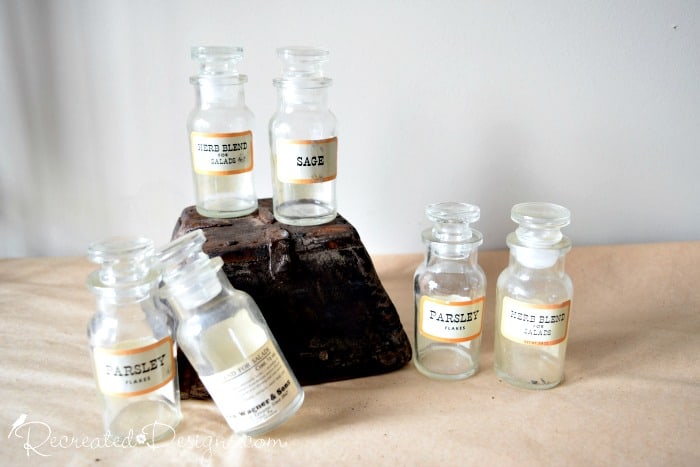 I wanted the bottles to stand out and be the centre of attention once they were vases, so I used jute twine to hang them with. It's nondescript nature, neutral tone and sturdiness made it a great choice. I cut six pieces, in similar but slightly different lengths, to use to hang the jars from.
The long pieces were attached to the sides of each bottle neck with hot glue.
Then, by wrapped the twine around the bottle necks, it covered up the ends of the pieces used for hanging and added some character.
I love how the twine looks perfectly at home with the flowers! While it adds something special to the little glass bottles, it takes nothing away from their beauty at the same time.
After adding the beautiful wildflowers, these little vintage spice bottles became the perfect vases.
I love when something small and simple, like these little vintage jars, can be used again in a new way to remind us of our past.
And on another note… be sure to hop over to the Recreated Designs Facebook page for a special 15% off coupon code for the Etsy shop!
This code is only good until June 30, 2016 so don't wait another minute to snatch up a hand painted sign or some Farmhouse decor.
Just a little way to say thank-you to my wonderful readers ♥
Save
Save
Save
Save
Save
Save
Save