Did you see Tuesday's project about painting a pail to look like Galvanized metal? The pail turned out wonderfully but it was still missing something.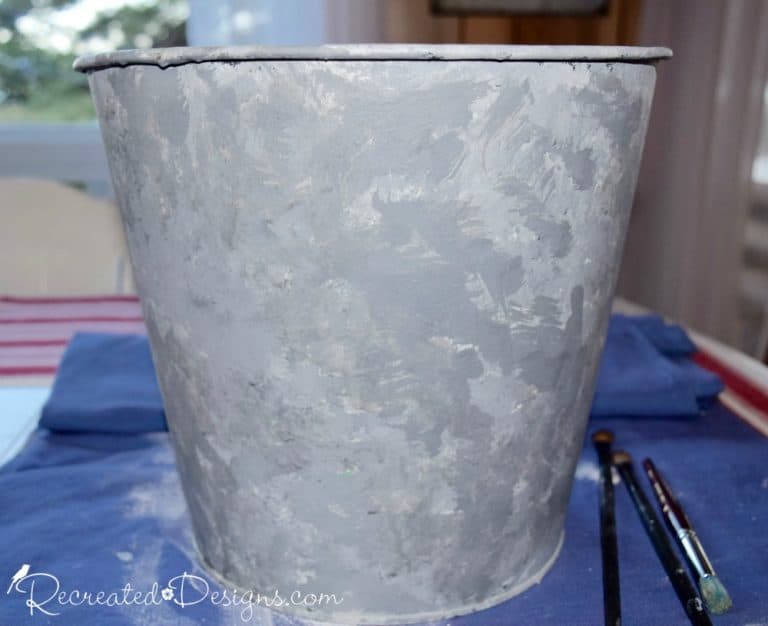 Back in the day (as my niece likes to say) household items were made to last. People usually had very few possessions and cherished those they did. Since common items, like buckets and pails, were used regularly, people frequently added some sort of identifying mark to them to keep them from disappearing.
After painting my metal pail to look like an old galvanized metal bucket, I wanted to add an identifying mark to it. By adding something like an address or street number, it would help to give it even more of an authentic look.
I found this Deco Art Americana Decor Stencil, Cafe Paris and thought that the address part was perfect.
When stenciled words look multidimensional, it gives them more of a hand painted look. To achieve that multidimensional look, you need to use the stencil twice. The first time you will use a dark colour that will act as the shading and then a lighter one to highlight.
To get that look on my pail, I used the same Fusion Mineral Paint Ash colour I had originally painted the pail in first and then Casement, a white from the same line.
The Ash colour stencil layer didn't need to be precise so I wasn't concerned about making it perfect. That layer would simply serve as the shading on the final lettering.
Oncethe Ash coloured stencil layer was dry, I re-applied the stencil moving it slightly to the right of where I had placed it originally. By putting the stencil in a slightly different spot, the darker colour would look like I had added dimension to each letter.
Using the stencil twice to create that dimension is a quick and easy way to get a hand painted lettered look.
Now that my collection of metal pots is growing, I can't wait to fill my balcony with flowers and greenery!
Pin for later…
* Please note that this post includes Affiliate links. By using the link, it in no way increases the cost of the product to you, should you choose to buy. However, by using the link, a small portion of the sale is returned to me to help fund this blog.
Save