Even though I live in Canada, I have never really gotten used to the cold, snow and short winter days. Sometimes it just feels a little dreary.
I wanted a new sign that could be outside and brighten it up.
These wood slices were left over from Christmas ornaments and they were exactly what I needed for this project.
Let me insert here that the twine in the photo above ended up not being used in the final sign. It was one of those rare times when I changed things up a bit while I was working…
Back to the sign…
I grabbed a piece of salvaged wood and gave it a coat of Miss Mustard Seed Milk Paint in Flow Blue. Flow Blue is a gorgeous, bright blue that looks antiquey and so pretty with white.
The wood slices got a chunky coat of Fusion Mineral Paint Metallics in Pearl. Pearl has a lovely sheen to it that sparkles and shines in the sunshine.
Let It Snow was spelled out on the wood slices in the Flow Blue.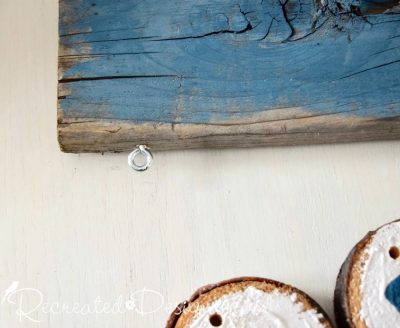 With wood slices painted in the Pearly white, they look like little snowballs.
To hang them, each was measured and looped through an eye hook.
Snowflakes were added to the long board painted with the Pearl.
I love how the little snowflakes look like they are falling onto the Let It Snow.
I can't help but smile when I see the cheery blue sign. This has to be one of my favourite Miss Mustard Seed Milk Paint colours.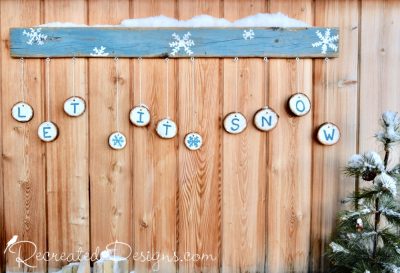 What adds a bright spot to your dreary winter days?
Pin for later…
**Please note that this post includes Affiliate links for your convenience. All links are for products that I have tried and use regularly. By using the link, it in no way increases the cost of the item to you should you choose to purchase. However, by using the link, a small portion of the sale is given back to help fund this blog. Thank you! **