I have to be honest and say that when the new IOD (Iron Orchid Designs) Inlays came out I wasn't thrilled with them. I didn't really see the point of them. Then I tried them last week, and I was hooked in an instant.
The inlays are like nothing I have seen or tried before. They are sheets of painted designs that you inlay into your painted surface. Think wood inlays… when a contrasting wood is laid into another type of wood. These are the same premise only paint.
After trying the inlays and absolutely loving them, I was so excited to share this project with you… Until I went to write the post and realized I had somehow lost all of the process videos I had recorded!!! Oh. My. Word. I had recorded the whole process since this was something that you needed to watch and not just see in a picture. UGH.
The Cutting Board
Here is what I still had after the discovery of the missing videos; the beginning and the end. I will do another project this week and film the process for you because these are something you really need to see in action.
I started with this thrifted cutting board since I loved the thickness and shape.
The Rose Chintz Inlay
The inlay comes in thin sheets that you can cut and use in any way you'd like. They are reusable (up to two or three times) but they will pick up some the color from what they are put on and that will be there for the next use.
The pattern on the sheets is paint so that when you lay it on a surface, it is putting paint into paint and that is what creates such a gorgeous effect.
Unfortunately, this is as far as we go with the inlay process in this post since I lost the rest 🙁
So let's jump ahead…
Adding Feet
When I was finished with the inlay, I wanted to raise the tray up. These wood knobs fit the bill and were the perfect size to add some feet.
A generous dab of wood glue was all they needed to keep them attached to the underside of the cutting board.
Once the glue had a few minutes to get tacky, I flipped the tray over and weighed it down. It stayed like this until the glue was fully dry.
The Rose Chintz Inlay
The inlay was absolutely gorgeous on the old cutting board. It is so different from a stencil, transfer, or decoupaged image.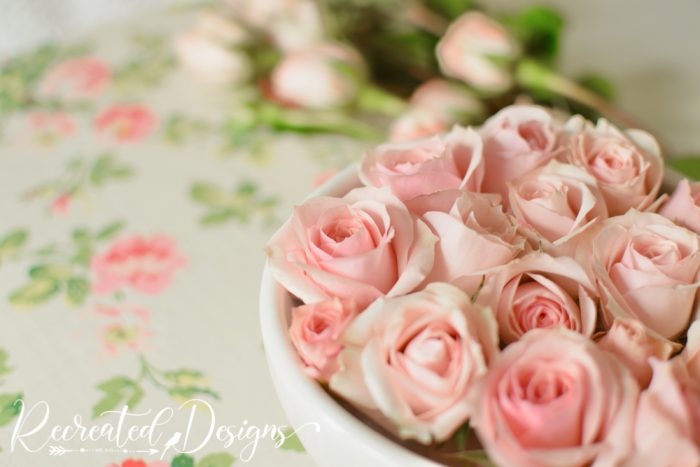 In person, it looks like I hand-painted the pattern myself. I really can't gush enough about how beautiful these are. They are a bit of a process to use but the outcome is so worth it.
I will make another one this week and be sure to share another post on how to use them 🙂
Have a wonderful Sunday!