Over the past few months I have been working on redoing my living room (and the entire main level frankly). The painting has been going well. I love the new colour and it makes it feel a lot brighter.
However… as I was rounding the corner to the main wall in my living room, I realized I really didn't like the new paint colour along that wall. The paint colour itself is lovely but when it becomes the backdrop for my off white TV stand and snow-white curtains it just wasn't looking right.
I didn't want to continue with the new colour on the main wall so I sat and stared at it for quite some time… waiting for inspiration to hit. (you can see the new colour on the left and the old colour on the rest of the wall)
Do you ever do that? Wait, hope and long for inspiration to hit?
Then, finally, it hit me!
The Solution…
One of my dreams has been to have a natural plank wood wall. I love wood (no secret there) and I have always wanted to make a reclaimed wood wall. I do not however, have enough reclaimed wood to cover a wall… yet anyway.
So, I thought, if I don't have enough actual wood to cover the wall, why not paint it to look like it is covered in wood??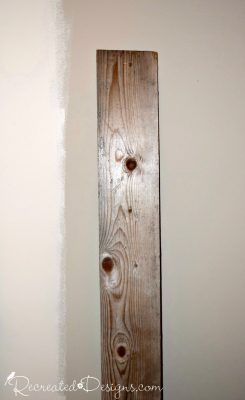 Above is my inspiration board. It is the perfect width and size so I used it as my template for the painted planks.
I held the board up to the wall and traced it. I stated in one corner and then kept moving it down until the entire wall was covered.
Unfortunately, I didn't get a better picture of the lines, but you can see them a bit above. At that point in the process, I had covered the wall in lines and was experimenting with paint colours and glaze.
To make sure the lines didn't go wonky, every so often I used my level to make sure I was still on track.
Once all of the lines were drawn, I began filling them all in. There was no rhyme or reason to how I filled them in. I took 5 different shades of brown and just randomly used them to fill in the pencil lines.
After the paint was dry and I had "sat" with the wall for a few days, I used some glaze to make wood grain and knots in the wood.
To make the wood look even more authentic, I added some old, rusty nails to random boards. I think I am actually going to paint a few faux nails on as well to add to it since I only had a handful of rusty, real ones.
To finish it all off, I added a couple of broken iron hooks.
The hooks were reclaimed from a coat tree that sat in my grandparent's entryway for as long as I can remember. I used the whole ones this past summer to make something for my mom and these broken ones were the ones left. Despite the face that they are broken, I really like what they add to the wall. (not to mention I love having the simple reminder of my grandparents there for me to see)
My new faux wood wall has completely changed the feel of the room. The living room, dining room and kitchen are all one big room so when you stand back, the wall has such a huge impact. (the pictures really don't do it justice!)
Now to decide on a few last details… Like the lamp in the corner. I have been trying two different ones out. One that hangs and a standing one. I just can't decide…
I really does finally feel like things are coming together though.
The fact that it cost me nothing at all to paint the wall, makes even more delighted 🙂
Here is a list of the paints I used…
Annie Sloan Chalk Paint in Coco
County Chic Paint in Chocolate Tart
Country Chic Paint in Driftwood
Country Chic Paint in a mix of Driftwood and Lazy Linen
Country Chic Paint in a mix of Chocolate Tart and Driftwood
and the glaze was Fusion Mineral Paint Antiquing Glaze
By the way, these were paints that I had on hand – nothing scientific went into their choosing 😉
Save