I am so ready for Spring!! (as I am sure you are too if you live anywhere in the North!) Spring official came this week but it sure didn't feel like it here… it was -20 Celsius something here. UGH.
Despite the freezing cold weather, I really needed to get into the Spring spirit so made a cute sign for my cedar shelf.
Having greenery in my home, at any time of the year, makes me happy and feel like I am connected to the outside world. My only requirements for the Spring sign was that it needed to be springy, bright and green.
I already had this piece of reclaimed wood that was painted with [easyazon_link identifier="B00O2JNZ98″ locale="US" tag="recredesig20-20″]Fusion Mineral Paint in Casement[/easyazon_link]so I just needed something to go on it. Off to Michaels I went to peruse the shelves.
I found these [easyazon_link identifier="B01FCYIOP6″ locale="US" tag="recredesig20-20″]wood letters[/easyazon_link]…
and pretty [easyazon_link identifier="B00UYIYBOY" locale="US" tag="recredesig20-20″]moss ribbon[/easyazon_link].
I thought it would be fun to have raised letters this time on the sign since I usually hand paint them right onto the wood.
To make them bright and sunshiny, they got a coat of [easyazon_link identifier="B01G9S4SIG" locale="US" tag="recredesig20-20″]Fusion Mineral Paint in Little Star[/easyazon_link].
Then came the moss. I have to say, if you don't like messy projects… you won't like working with this moss ribbon! It left mossy fuzz everywhere.
To cover the letters, I laid each one onto the ribbon and cut the ribbon into the shape of the letter.
Then used the [easyazon_link identifier="B01178RVI2″ locale="US" tag="recredesig20-20″]hot glue gun[/easyazon_link] to attach them together.
I love how the pretty yellow peaks through from below the moss ♥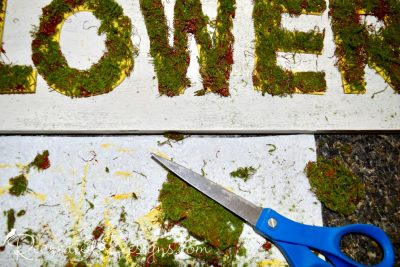 Once all of the letters were covered, they were laid out onto the wood plank.
Using the hot glue gun again, they were then attached to the board.
I love the green and hint of yellow on the sign… and having the raised letters this time just make them pop.
I couldn't resist adding my little yellow ducky that I made when I was 6 to the shelf as well 😉
I think I am actually going to go back and get another roll of this ribbon. Despite being messy, I really like the effect it gave the painted letter.
Now every time I see the sign, I can't help but smile and hope that Spring will be here soon!
**Please note that this post includes Affiliate links for your convenience. All links are for products that I have tried and use regularly. By using the link, it in no way increases the cost of the item to you. However, by using the link, a small portion of the sale is given back to help fund this blog.**
Click here to see a list of blogs where this post is linked up to a link party…