A year and half ago I turned an old frame into a Fall wreath and it has always been one of my favourite crafty projects (not to mention most popular posts).
This time around, I wanted to make one for Spring with some beautiful Spring colours… pink, peach, yellow and white.
Here are the directions if you would like to make one too!
Spring Picture Frame Wreath
Start with an old thrift store frame. I picked this one up for $1.
Remove the glass and backing.
Paint the frame and distress it lightly. The beautiful, soft yellow that I used was Country Chic Paint in Creme Brulee.
Collect some pretty spring flowers in bright Springy colours. I picked these up at Michaels.
To make the initial bunch of flowers that will hang from the frame, grab them with one hand…
and wrap the stems with burlap ribbon. To hold the ribbon in place, use a little hot glue on the back of the bunch.
Use a piece of wider burlap ribbon, looped around one of the corners to hang the wreath with.
To attach the flowers to the frame, slice a hole through the large burlap ribbon and slip the end of the bouquet through the slit.
Add some hot glue to the corner to hold the flowers in place.
Once your initial bouquet is in place, begin adding flowers until you have a fullness that you like.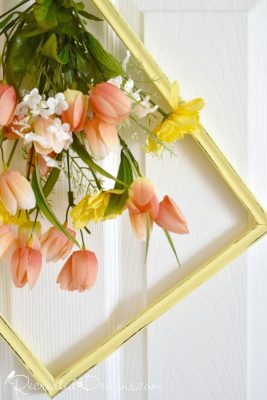 This pretty wreath goes perfectly with all of the other yellow I've been adding this year for Spring.

Happy Spring!
Pin for later…
To see a list of the blogs I connect with for Link Parties, click here…