I love my dining room table but I have been wanting to lighten it up for quite a while. It's a solid wood table that can be extended so it is perfect for a smallish urban space… it's just dark.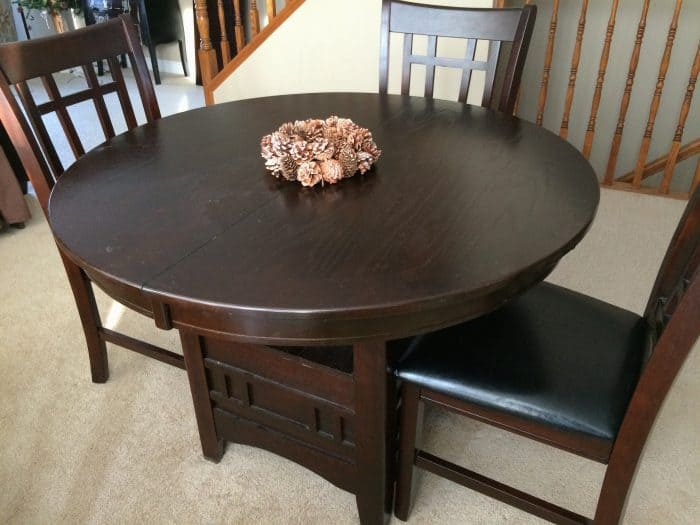 I thought I would begin by sanding the top to see what it looked like under the dark stain. The grain turned out to be very pretty but is just a little too "busy" for me.
After seeing the dark grain, I knew that I wanted to paint the entire piece.
I love milk paint and the look it gives so chose Homestead House Milk Paint in Limestone.
Limestone is a beautiful creamy white that is not too white and not too creamy 😉 Just perfect!
With the table being so dark, I knew it would take a few coats to get some coverage.
This is after 2 coats…
This is after 4. It was just dark enough to cover the table but light enough to see some of the grain through the paint.
Having worked with milk paint many times before, but not Homestead House paint, I was really, really please with how smooth it was. It mixed up like a dream and was beautifully smooth and creamy ♥
Once the paint was to an opequeness that I liked, I began the distressing…
I love distressing. (you can read here about how to make it look natural) I think distressing is what really gives the look of age to a piece.
Two coats of Hemp Oil and the table was finished.
I love the difference the light coloured milk paint gives the table.
Now to decide what to do about chairs…
A huge thanks to Homestead House Paint for supplying the paint for this project!