I love flea markets. The hunt for something special tucked away that everyone else seemed to miss. The thrill of finding something that speaks to you the instant that you see it. There is just something so special about rooting through boxes, tables and shelves looking for that thing… that thing that makes your heart smile.
Today for #simplysunday I wanted to share with you all about the 613flea. 613flea is a non-profit flea market in Ottawa that I finally got to experience yesterday for the first time and it was a pure treat for the senses.
The Location
Not only is the flea market itself cool to visit but the building it is housed in is a treasure for the history buffs among us.
The 613flea is located in the Aberdeen Pavilion at Lansdowne in Ottawa, Ontario and it was built 120 years ago in 1898! This Victorian exhibition hall is a National Historic site and has been the home to everything from Stanley Cup games back at the beginning of the 1900's to military units during the world wars to agriculture shows in the recent past.
The structure of the Aberdeen Pavilion is special in and of itself. It's high roof is held up by steel arches that help to create a beautiful, column free interior space…. perfect for the 613flea!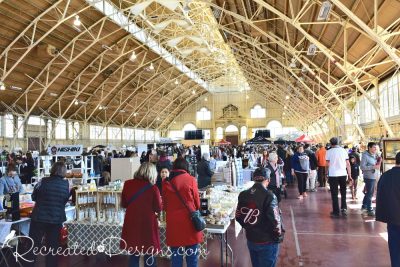 The Goods
The 613flea truly is an eclectic mix of old and new. It is chocked full of vintage finds from clothing to toys to farmdustrial odds and ends. Mixed in with the old though is a nice sprinkling of the new which keeps it fresh and interesting each time they put it on.
There are over 100 booths at each event so there is most definitely something for everyone.
I love vintage kitchen utensils, linens and really anything blue, red and neutral so there was lots for me to see!
My Favourite Finds
There was just so much to look at and through it was hard to narrow down my favourites, but here are a few…
A gorgeous stack of old grain sacks. I have long loved grain sacks and their stripes (and even put some on a chair once) so was instantly drawn to these!
There were even some with monograms! These utilitarian bags are so special and I can just imagine a farmer's wife stitching them together by the fire.
I also found a booth that was just busting at the seams with reclaimed hardware, hooks, knobs and keys. Oh it was like a feast to the eyes! I could have loaded down every bag I had on me with the treasures from this booth.
I think my very favourite find of the day though were these simply jingle bells. They seem so inconsequential but when I saw them sitting at the bottom of a pail I couldn't stop thinking about them.
They are each about an inch wide and were likely attached to a leather strap used on a horse sleigh. Can't you just hear them jingling? I just couldn't leave without them!
613flea really was a treat and now that I have finally made the time to go, I will definitely be going back soon!
Do you have a favourite flea market in your area? I would love to hear what you are drawn too when you go searching through the piles…