Living in the capital of Canada certainly has its perks and I love being in the city almost as much as I love being at the cottage. One of the major drawbacks though is that I have no yard! Nope, not even a single square inch. (that is probably why I love being at the cottage so much!) What I do have though are two balconies.
While I am thankful for my balconies, they can become a bit of a chore to keep up. The one that I use the most is off of my kitchen and work area and I look at it daily. Where I do most of my writing is directly inside the sliding doors, so I spend hours looking out at this balcony. And I hate to say it but… it has become a mess lately. Like seriously messy.
With Spring *kind of* here… I decided this was the year to give that balcony a makeover and make it look pretty. I had hoped to start cleaning and painting the larger pieces but unfortunately, we have had a couple of frost warnings this week and it has been quite chilly. In spite of that, I did get started on the clay pots though.
Wanting to make the space a little more natural feeling, I painted all of the pots in shades of blue, green, and grey. I used Milk Paint by Fusion on them in these colours: Terrarium, Poolside, Coastal Blue, and a mix of Gotham Grey and Velvet Palm.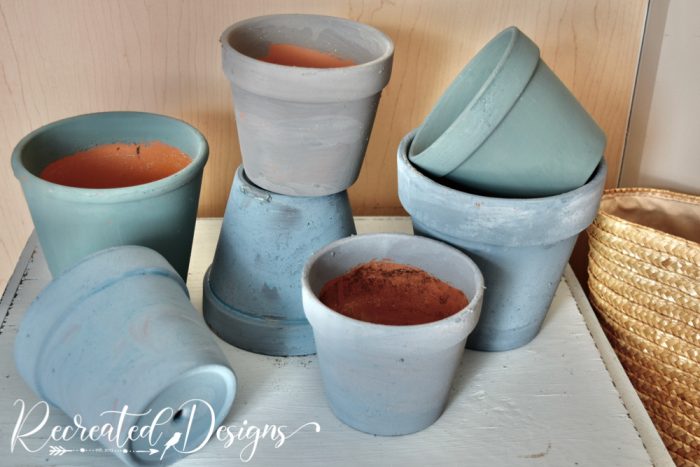 Each clay pot got one coat of paint and then a coat of Tough Coat in Matte. The Tough Coat is a waterproof clear coat so will protect the pots and the paint nicely when they are out in the elements.
For now, the painted pots and plants will have to stay inside until it warms up but I am hoping by the weekend I can get started and move them out.
Until then, I'll enjoy the pretty colours and how lovely the pots look painted. I am so glad I was able to get that much done at least.
Milk Paint Tips
Does Milk Paint seem a little intimidating to you? If so, you are not alone! Check out this week's DIY Tip of the Day Video. It's all about Milk Paint and is filled with tips to get you started. Just click the picture below and it will take you right to the video…
Passing This Along
I noticed this week that Milk Paint by Fusion is having a sale! You can get 6 sample bags of milk paint for the price of 4 or you can get a huge discount on 3 large bags (almost equivalent to "buy 2 get one free"!) If you have been wanting to try Milk Paint, this is a great time to do it!
Don't forget…
This week is my giveaway week of fun!
Everyday over on the Recreated Designs Facebook page there is a daily contest to win some of my favourite DIY products.
There is also a grand prize at the end of the week up for grabs and it's not too late to join.
Hop over to the page and look for the Videos for Day 1, 2, and 3 and enter to win.
Good luck!
**Please note that this post includes affiliate links for your convenience. All links are for products that I have tried and use regularly. By using the link, it in no way increases the cost of the item to you should you choose to purchase. However, by using the link, a small portion of the sale is given back to help fund this blog. Thank you and Happy Creating! **