This month was the very first Recreated Designs Junk Into Gems Challenge and the item of the month was frames. The goal of the challenge is to create something new from something old. It not only gives us all a chance to get creative but it also keeps more items out of the landfill.
The Frame
I wanted to challenge myself to create something with a frame and not just challenge others so grabbed this frame I found at the dump ReUse centre last summer.
I started my project by removing the matt and insert so that only the frame and glass were left. They were each wiped down with a damp cloth to remove the dust and dirt.
The frame was given two coats of Fusion Mineral Paint in Picket Fence and then I gave the edges a light sanding.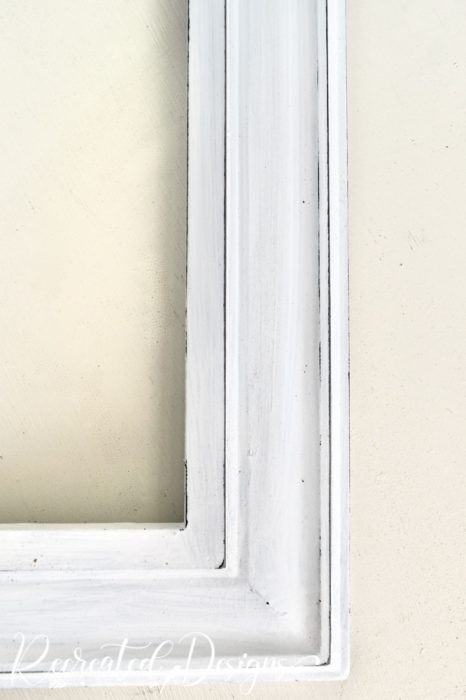 Creating the Sunny Summer Art
I wanted to create a piece of summer art out of my frame and a huge thanks to Dixie Belle Paint for providing the Sunflower transfer for this project.
To create my new piece of art, I cut the transfer apart and began rearranging the sunflowers until I found a layout I liked.
With the glass securely in place and the arrangement decided upon it was time to add the gorgeous flowers. When you are layering transfers you need to remember that the bottom and/or back ones need to be added first. You want the arrangement to look as natural as possible.
To make the flowers feel more alive, I let them spill over onto the frame and off of the glass. The effect that it created was beautiful.
The Sunflower transfer looked amazing on the glass of the frame. When placed against a window it has almost a translucent or stained glass feel to it. It was a beautiful way to create a new piece of art from an old frame.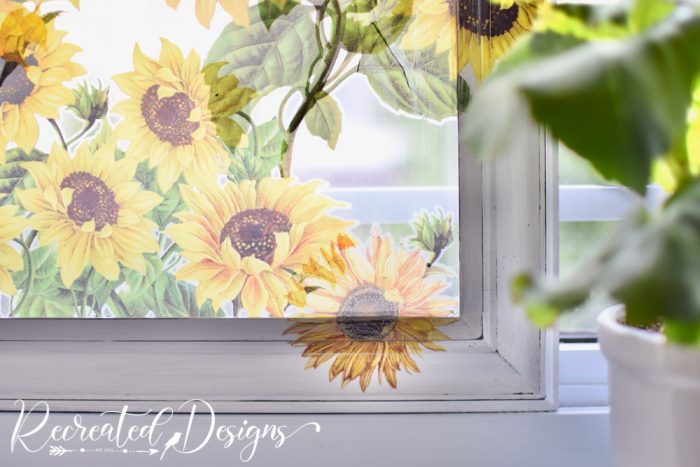 I am crazy in love with how pretty this piece is and how lovely the transfer looks on the old frame. I think this piece of junk definitely qualifies as a gem now ♥
Join the Challenge!
If you want to join next month's Junk Into Gem Challenge click here for more information. You will not only get to create something new and save something from the landfill but will be entered to win some great prizes as well!
Check out more things you can do with old frames here…
**Please note that this post includes affiliate links. By using the link, the cost does not increase and a small portion of the sale is given back to help fund this blog. For your convenience, you can also find all of my favourite DIY products here. Thank you and Happy Creating! **