I have completely fallen in love with vintage linen. It actually happened quite some time ago. It started with pillowcases and has gradually progressed from there.
Vintage linen has an incredible beauty to it. Not just because of its organic makeup but because, like furniture, most of it has a story to tell. It was frequently hand-made and used and used until it was worn out.
It is getting harder to find vintage linen that is in great shape but there is still lots of it out there. And, if you don't mind a few mends here and there, you can pick it up for a reasonable price.
I love mixing these beautiful old pieces into my home. They add a touch of the past and many are works of art in and of themselves. Here are my 6 favourite types of vintage linen to use in my home and how.
Doilies
Doilies used to be so commonplace that a home wasn't a home without a doily under every surface. Now they are not nearly as common but I still love using them throughout my house.
Each one is different and they come in so many shapes and sizes that you can always find one that works. Tuck them under a plant, a cake plate, or anything else that fits and instantly elevate your decor.
Napkins and Handkerchiefs
Like doilies, napkins, and handkerchiefs used to be in abundance and a dime a dozen. These little beauties look great folded in a basket, stacked on a shelf, or laid out on a dresser top. They are easy to find and can be picked up cheaply.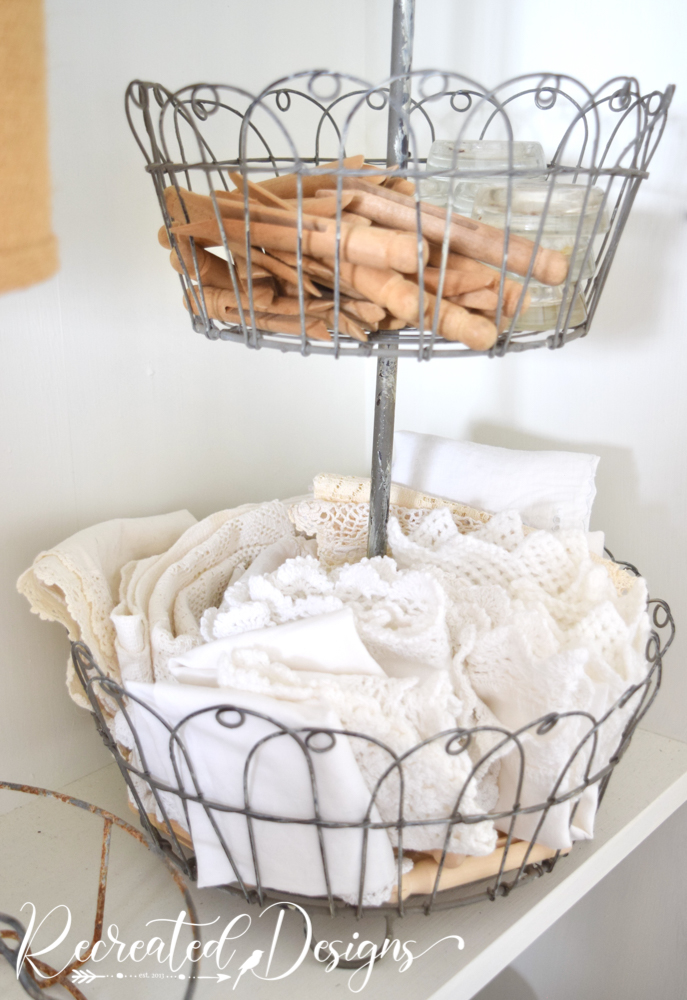 Pillowcases
This is where it all started for me. I started using vintage pillowcases years ago at our cottage and quickly fell in love with their softness and smoothness. There is nothing so lovely as laying your head on a vintage piece of linen when you are ready to drift into dreamland.
Pillowcases are still fairly common but if you decide to go for the entire bedding ensemble you will be paying a pretty penny. Beautiful linen sheets have gone way up in price and are harder to find. Hunt through thrift stores (and your grandma's closet!) though and you just make luck out with some great finds.
Tea Towels
These kitchen staples are hard to find without stains for good reason. They have been the workhorse of the kitchen for centuries and are usually used until they are threadbare. They are so pretty though and you can usually find them to match any colour or decor. Even if you don't use them on a daily basis, they are still beautiful to look at and enjoy.
Aprons
Another of the kitchen staples was the apron. I love vintage aprons. They remind me of my grandmother's kitchen and Sunday dinners. Do you see anything but a vintage kitchen that smells amazing when you see a pretty vintage apron?
Like tea towels, they are hard to find without stains but even if they do have a few spots, I don't mind. It just reminds me how much the piece was used, loved, and helped someone in the past.
Tablecloths
Vintage tablecloths are another one of my favourites. I have been picking them up whenever I see them over the years and they are still fairly easy (and inexpensive) to find.
This is one of my favourites. I love the colours and the stipes and even though it is as thin as can be, I still love bringing it out each summer.
Do you have any vintage linen in your home? If so, do you use it for its intended purpose or do you use it more as a piece of art?
I don't think I will ever stop collecting vintage linen. There are just too many beautiful pieces out there that need a good home ♥
To see more ways you can use vintage in our home without spending a fortune, check out this post here…