I can't believe it is already the end of August and the end of summer. But, despite my sadness that summer is coming to and end, the end of another month means another Fab Furniture Flippin' Contest!

The theme for August was Class It Up and we had the privilege of working with D. Lawless Hardware.
If you have not been to the D. Lawless Hardware site, prepare to be lost in the oodles and oodles of gorgeous things they have. Knobs, pulls, wheels, bars just about any type of hardware you can imagine or want, they've got it. My first time over there, I was in total awe of the amount of things to choose from.
After perusing the site for a looong time (how on earth do you choose when there is so much to choose from??), this is what I decided on…
Some beautiful, sparkly blue knobs, wooden wheels and label holders.
As for what to use all of those fun pieces on… Well, I chose this very dilapidated old wood shelf. It seemed like it was the perfect candidate for some classing up!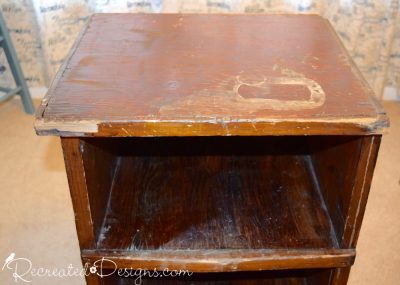 The first thing I did with the shelf was to add a bottom to it. I didn't want to waste the space under the second shelf so this seemed like the best solution.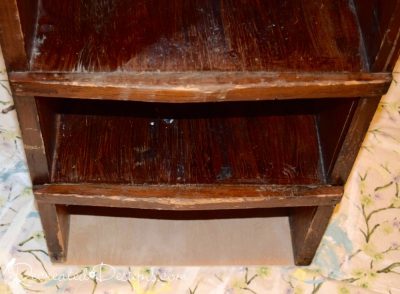 After measuring and cutting out a piece of wood to fit the bottom, it was attached with wood glue and small nails. Once the shelf was in place, I painted it all in a soft, pretty blue called [easyazon_link identifier="B01G9S4SI6″ locale="US" tag="recredesig20-20″]Little Whale by Fusion Mineral Paint[/easyazon_link].
Now came the fun part… adding all of the things I got from D. Lawless Hardware.
Since I had ordered the black label holders (oops!) and wanted them to match the rest of the things I was adding on, I spray painted them silver. Adding them to the cart was as easy as pie. I used small nails to hold them in place and added the labels.
Next up were the wheels. Adding wheels was the perfect way to take this shelf unit to the next level. I love the wooden wheels and how well they added a special feel to the piece. The wheels took a bit of time to attach but they were well worth the effort.
Since adding them was a bit of a process (but not hard), I am going to do a separate post next week to show you exactly how to add them.
Finally, I used the pretty, sparkly knobs to hold up a memo board.
I took a vintage metal tray that I had spray painted silver and added it to the side of the shelf turned cart. The tray provides the perfect place for me to leave notes and reminders (and heaven knows I need them!) in a convenient spot.
This very rustic shelf was completely transformed and classed up with the help of a few small things. What a difference some wheels, label holders and knobs can make!
If you missed previous contest projects, you can see some of them here, here, and here.
To see some other amazing projects done with items from D. Lawless Hardware, pop over to 58 Water Street.
If you are a blogger and would like more information, or to join us in future contests, please email [email protected].
The hardware used for this project was generously provided by D. Lawless Hardware and the paint used for this project was generously provided by the Fusion Mineral Paint. The genuine opinions expressed are completely my own.
**Please note that this post includes Affiliate links, for your convenience, for products that are used in this project that I have tried and use regularly. By using the link, it in no way increases the cost of the product to you should you choose to buy. However, by using the link, a small portion of the sale is given back to me to help fund this blog.**