I recently had the opportunity to pick up a whole, whole bunch of vintage things from a store that was closing in Ottawa. The man had owned the shop for 25 years but had become ill and his items needed to be liquidated quickly.
I have to say that it was one of the most fun "picks" I have ever done.
I could have spent hours and hours combing through his "shop" but we only had one day.
I say "shop" loosely as it was a collection of rooms stuffed. to. the. brim. This man had been collecting things for a quarter of a century and there were things in there that hadn't seen the light of day in a very, very long time.
The shop was filled with anything and everything and it was piled anywhere and everywhere.
Places like this excite me. I couldn't stop thinking about where each piece I picked up had been and who had touched it over its life.
If only things could tell stories!
Here are just a few of my favourites from that day…
Beautiful, soft Five Roses flour bags. They actually have an offer on them to send in for a Cookbook for $1.75.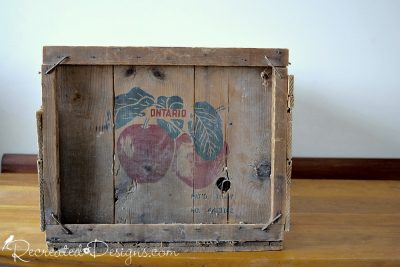 A 70 year old apple crate from Trenton, Ontario. Look at those beautiful graphics!
A cool tin cash box.
Look at all of those compartments! I can't wait to take it to my next sale 😉
A lovely glass flower frog in a silver cup. I can't wait to get some early spring blooms to use in it.
Cool old jelly tins.
Pretty, delicate bud vases.
Old German Alpacca spoons and other silver plate pieces.
A coffee urn that still had its original top and spout stopper.
A gorgeous Ironstone Soup Tureen from Japan. I think this was my favourite find of the day.
Just look at those lines…
And that crazing ♥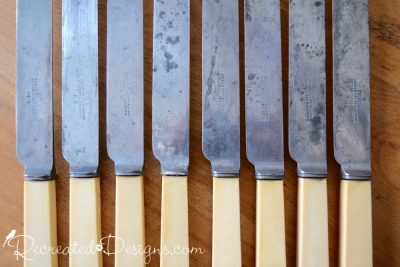 This set of knives was the most unexpected find. I threw them in because I loved the look of them but when I got them home and out of the dirty bag I noticed this…
These knives say "Joseph Rodgers & Sons Cutlers to Her Majesty!" Turns out, after a little research, that they were made during the Victorian Era by famous English cutlers; some of the best ever. To think these knives are over 120 years old and are still in amazing shape and are sharp. They are truly a piece of art.
This very old Sampler was something I almost missed but my Mom pointed it out and encouraged me to grab it. I am so glad she did.
It came in a frame and I originally thought it had been glued to a piece of foam board but once I got it apart I discovered it was only pinned on. Phew!
Look at those beautiful colours…
I did a little research on this too, since the little girl added her name to it, and it somehow made its way all from England to Canada. This is one of those pieces I sooo wish could tell it's story.
An amazing Art Deco bookcase. I love its small size. I have never seen one quite this shape or size before. It was a piece that I had to literally dig out of a huge pile but it was so worth it!
And this beautiful, beautiful buffet! This beauty is going to be recreated and go into my Living Room. It was a bear to get up all of my stairs but it is incredible. With its one huge drawer, large storage space and shelf and these amazing tin handles, how could I leave it there??
All in all it was an incredible day filled with amazing finds… I could do this all day everyday 😉