Last Friday when I did my latest Facebook Live for Hometalk I switched the location in which I filmed it. For this last demo, (making a Spring wreath out of a Thrift store frame) I shot the Live in front of a wall that had two pieces of reclaimed wood and a book page flower on it. Many of you noticed the book page flower behind me and sent requests for directions on how to make it.
The book page flower is one of my favourite decor pieces in my home and I am happy to give you the directions on how to make your own. I find the flower striking against the reclaimed wood and it makes me smile every time I look at it.
Here is how you can make your own book page flower…
Grab a cardboard box. You will need this to make the backing to build the flower on.
Draw a large circle on one side. I used a large Tupperware bowl so I would get a nice even circle.
Cut out the circle.
I didn't paint the circle for my flower because it is very full however, if you are worried about seeing the back, you can paint it an off-white colour to match the book pages.
Pick up an old book at a thrift store or use an old favourite.
Using a knife blade, slice along the edge of the pages to remove them from the book.
Depending on how full you want your flower, you will need 30 – 50 pages.
Slice the bottoms off. You don't want squares but if the pages are too long, you won't get a nice cone.
Roll each page into a loose cone.
Add a dab of hot glue to hold the cone closed.
Making a bunch of cones at once, before you begin the flower, will make it easier.
Make your flower in layers. Add a dab of hot glue to one end and attach the cone to the cardboard. Fill in the spaces with each new layer.
When you get to your last layer, crinkle up a page and glue it onto the centre to finish off the flower.
Attach a piece of string to the back of the cardboard with some hot glue. Now you are ready to hang your new book page Chrysanthemum.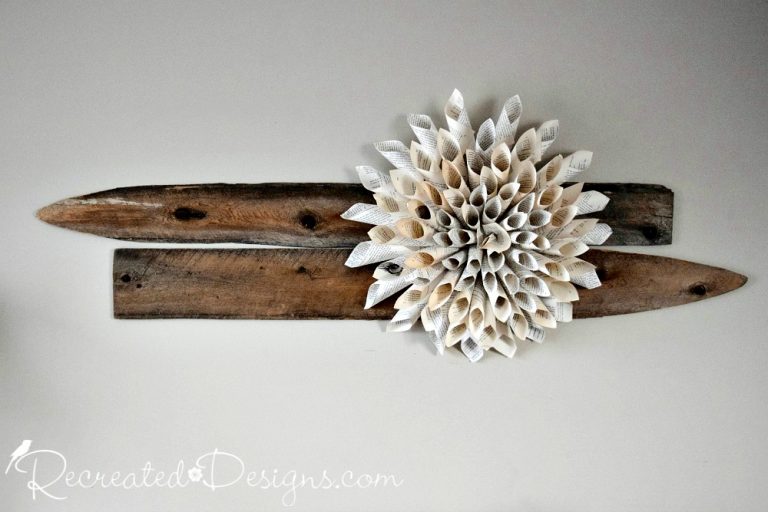 I hung mine over two pieces of reclaimed wood and I love how the colour of the old book pages looks against the wood. You can see a larger picture of it in my Holiday House Tour from this past Christmas here…
I would love to see pictures of where you hang yours! Upload them to the Recreated Designs Facebook page.
Pin for later…
To see where I like to party and link up my posts, click here…