I am one of those people who looove Lavender ♥
I love the look, the colour and most of all the smell. Oh the smell. I could drink that smell up I love it so much.
I have a lot of dried Lavender in my house but I wanted to have some Lavender stems to decorate with.
Here is an easy way to make DIY Lavender stems.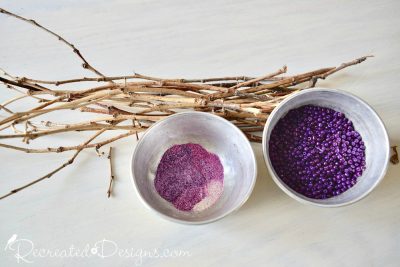 Start with some twigs from a local tree, a cup full of small purple beads and a little purple glitter.
You will also need an old canning jar to display them when you are done. I painted mine white with General Finishes Snow White Milk Paint.
To make the twigs look more like Lavender stalks, I painted mine a pale, mossy green. I mixed 3 parts Fusion Mineral Paint in Inglenook with 1 part Bayberry.
Once the paint was mixed, it was a nice creamy, pale green with a hint of moss.
Paint up as many twigs as you would like to make.
Holding one of the twigs, cover the end with hot glue from a glue gun. Be careful not to get any on you!!
Sprinkle some of the glitter on top of the beads and then dip the twig in. Gently push the beads into the glue to make sure they are all stuck in place.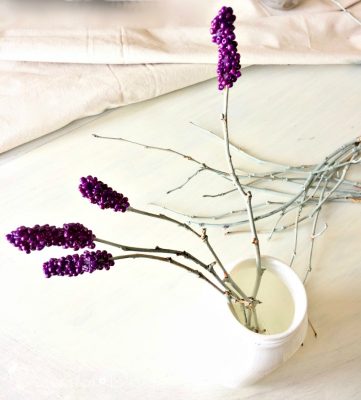 Stand the stems up in your Mason or canning jar to dry.
Once the hot glue hardens, the beads should be held firmly in place creating the spike. When all of the glue is dry, arrange your flowers in the mason jar and use to add some rustic beauty to your space.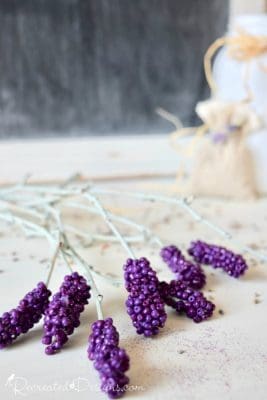 I am crazy in love with how the Lavender stems turned out. They are perfectly simple and rustic and will be great for my summer decor. Now if only summer would hurry up and get here 😉
Pin for later…
**Please note that this post includes Affiliate links for your convenience. All links are for products that I have tried and use regularly. By using the link, it in no way increases the cost of the item to you. However, by using the link, a small portion of the sale is given back to help fund this blog.**