It's summer and that means lots of trips to the dump store 😉 Man, I just can't get enough of that place! I now even have my mom and dad "shopping" for me all the time when I can't get there ♥ How awesome is that? They know just what I love and have grabbed some awesome stuff for me! (wait until you see what they found today!) If you have missed past dump store finds, you can see some here, here and here.
With all of these cool finds, I couldn't help but share another one with you today.
A few weeks ago I found this broken lamp. The shade was dented, the wood cracked and I wasn't even sure it worked but I hauled it home anyway just because I loved the shape of the base!
Honestly, I didn't even remember to plug it in and see if it worked until I was half way through the project I was so excited;) Oops! Lucky for me though, it worked!! Phew!
I wanted the lamp to have a rustic look and was inspired by some vintage blue and cream striped fabric that I have had for a looong time. The fabric was perfect for my DIY lamp shade!
The Lamp Base
For the lamp base, I started with a coat of Fusion Mineral Paint in Midnight Blue. Even though I planned on the base being cream, I wanted an undercoat of blue that would show through when it was distressed.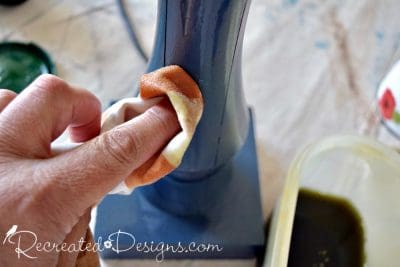 Once the Midnight Blue was dry, I rubbed on a coat of Hemp Oil. The Hemp Oil helped to keep the next layer from totally adhering to the blue so that the blue would show through.
Immediately after applying the Hemp Oil, I added a coat of Fusion Mineral Paint in Plaster and began drying it with my hairdryer. The heat helped the paint to crack a bit and helped to separate the layers. I only used one coat of the Plaster and then applied the heat right away and the blue shone through beautifully!
Plaster is one of my favourite colours. It was the colour I used on the buffet I refinished with old family letters. It is such a pretty neutral when paired with any colour and it goes with anything. I just love it *sigh*.
The Shade
Even though the old shade was dented, I wanted to use it. With the fabric ruffles, you wouldn't see the dent when it was finished so it didn't bother me.
The shade got one coat of the Midnight Blue. The fabric will cover the entire shade but I painted it in case it peaked through anywhere.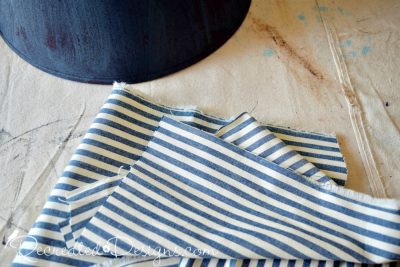 Isn't the fabric so pretty? You know I love blue and white/cream and this fabric is just so vintagy and gorgeous I couldn't help but be inspired by it.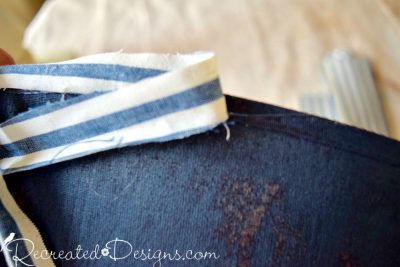 To cover the edges, I cut thin strips of the fabric and used my low-temp glue gun to stick them on.
Start on the outside and then do the inside gluing it on both sides.
To make the no-sew ruffles is so easy! Start at the top of the shade and make a glue line about two inches long. Lay the fabric strip on the glue and then push it with your finger or thumb until it scrunches up.
Be sure to work in small 1-3 inch strips so that the glue doesn't harden before you can slide the fabric into a ruffle.
Continue working around the shade, adding layers, until it is entirely covered.
Doesn't that look so pretty?! And there was not a stitch of sewing involved!
Do note that there will be little threads because nothing was sewn. I don't mind those though since they just added to the vintage/rustic look.
I am so thrilled that I grabbed this broken lamp from the dump store. Another find saved from the global trash stream!
Did you notice the antique quilt above? I just couldn't help but add one more photo of it. It was my great-grandmothers and it looks so beautiful with the "new" lamp ♥
**Please note that this post includes Affiliate links for your convenience. All links are for products that I have tried and use regularly. By using the link, it in no way increases the cost of the item to you. However, by using the link, a small portion of the sale is given back to help fund this blog.**
Pin for later…