I can't believe that Halloween is already over! I know people always say this and it is so cliché, but where does the time go??
If you live in Canada like me, Halloween being over means that Christmas is right around the corner! But, if you are in the US, you still have Thanksgiving to enjoy before the holiday season begins.
Even though we are on the stretch to Christmas now, I am not quite ready to let go of Fall. We have had exceptionally warm weather this Fall and I am still loving the leaves and beauty of the season.
I wanted to get in one more Fall project before I make the official switch to winter and thought a table runner was exactly what my Fall table needed.
I wanted the table runner to be neutral and rustic looking so didn't want to use bright coloured felt. I found this perfect beautiful blanket batting that has a gorgeous natural look to it and it was exactly what I wanted.
To make the no-sew table runner, I needed straight sides so used a long board to draw a line down each side.
Once the sides were nice and straight, I cut a point on each end.
To add some colour to the Fall table runner, flowers were cut out of the same fabric and dyed with paint.
After the flowers were cut, I watered down a spoonful of paint and dipped each flower into the mixture. I could have used pre-coloured felt for the flowers but wanted them to have a more muted, old look to them.
To get the Fall colours I used Annie Sloan Chalk Paint in Barcelona Orange, Country Chic Paint in Fresh Mustard and Fusion Mineral Paint in Fort York Red.
Vintage buttons added the last bit of texture and colour to the table runner.
With the flowers and buttons being raised, you only want to decorate the ends of the table runner. You would not want to put flowers and buttons all over or they would affect dishes sitting flat.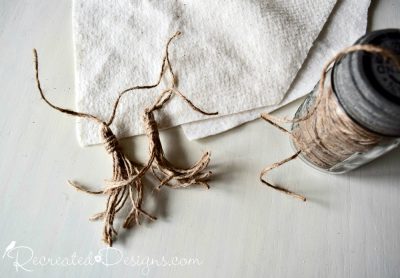 The final touch was a little jute twine tassel for each end.
I love how the jute is twisty and random. It just looks so pretty to me.
And how cute are those flowers? I couldn't be happier with how lovely the hand-dyed colours look. This table runner was so easy and I love that anyone can make it, no sewing prowess needed 😉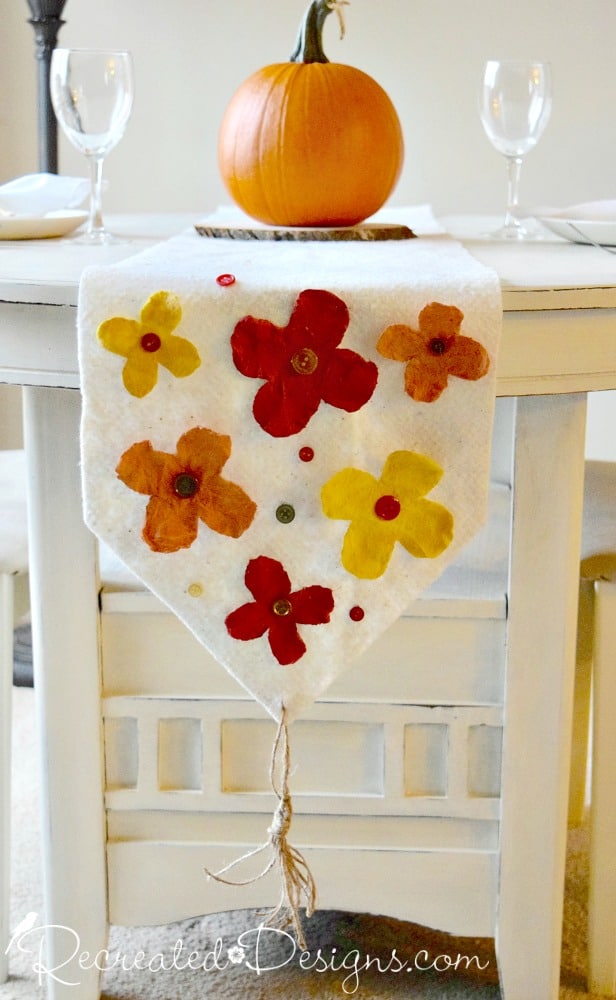 Make sure to enjoy the last bits of Fall and its gorgeous colours before they are gone.
Pin for later…