Happy Fall!
How are you doing?
Did you have a good summer?
Are you excited for Fall?
I can honestly say I don't know where the summer went! I always have such big plans and then before I know it, it has flown by. The past few months have been filled with adventure after adventure and the summer has disappeared before my eyes.
At the beginning of August I had the opportunity to expand Recreated Designs and open a booth . I absolutely love the location; a very old hotel in downtown Carleton Place, Ontario and the wide plank hard wood floors are the stuff of my dreams ♥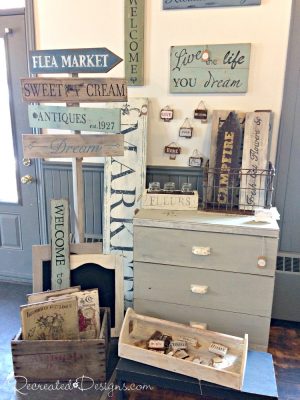 If you are in the Carleton Place area anytime soon, you can find the booth at the Queens Crafters and Antique Market on the main street.
At the beginning of September I was able to take a couple of weeks off and enjoy some time at our family cottage. I just love being there at that time of year. It is so peaceful and quiet. I was so thankful to have some time away!
Once vacation was over, it was full steam ahead to get ready for the Ottawa Fall Home Show. I was asked to teach workshops for the show in their new CREATEducation zone and it was so much fun! During the 4 days the show ran we made over 90 signs and I met so many incredible people.
Now with the Home Show over, I can focus on Christmas (*gulp* I know right?!) sales and workshops. I have a whole bunch of new classes coming up between now and Christmas and can't wait to post them soon! (If you would like to know specifically about upcoming Classes and Workshops, you can sign up for that email here…)
I hope that you had a great summer and would love to hear about what you did!
I seriously can't wait to get back to hanging out with you all on the blog!
Stay tuned for some furniture makeovers, photos from trip to a gorgeous historic fishing lodge and fun DIY projects coming up.
See you soon ♥