This Summer is different. Different than any Summer any of us has ever experienced. We can't do what we usually do, go where we usually go and visit with those we normally hang out with. Life definitely looks different this Summer.
Have you been missing anything that you usually do during the Summer but can't do this year? For me, it's visiting the beloved Dump Stores. I think I am probably experiencing actual withdrawal from them.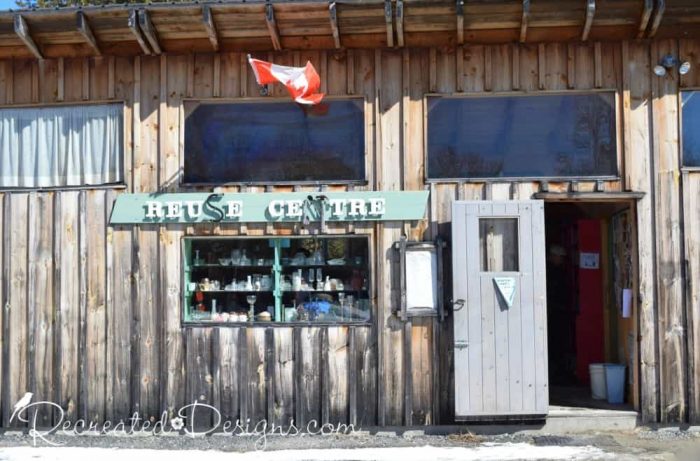 If you have followed along for some time, you know that Summer is the time when I get to hang out at the family cottage and, when I am at the cottage, it means trips to the dump. The Dump Store isn't really a store. There is nothing in them for sale. It is just what we have come to affectionately call the Dump reuse buildings. The buildings at each rural dump location where people can leave their items that are still in good condition so that someone else can take them for free. It's an amazing concept! Why throw something into the landfill when it is still useful? Why not let someone else take it and use it if they can?
So many of the items I use in my projects and that I used in my book are from the Dump Stores. I have found everything from furniture to linens to kitchenware to vintage goods. There really is no end to what I can find at the dump.
Since I think I am experience withdrawal, I thought I would take a look back at some of my favourite finds and projects from the Dump Stores…
An old, broken window that became a piece of art…
A beautiful dresser that just needed some TLC…
A broken lamp that got a complete makeover…
Some vintage glassware that became Fall decor…
And one of my very favourite finds of all time…
This gorgeous (and working I might add!) vintage fan.
I am sad to say (although I completely understand why) that I don't think the Dump Stores will reopen this Summer. So, until they do, I will just wait longingly for the day I can safely visit again.
If you would like to read more about the Dump Store and see more projects, you can find them here…