I have always loved vintage European grain sacks. Each one has a distinct history, gorgeous colours, and stunning texture. I have never seen one that I didn't love!
These beautiful handwoven sacks were used for over a hundred years to haul grains. The unique stripes and monograms allowed owners to keep track of their important sacks and allowed them to easily identify them at the market.
Authentic Grain Sacks
I found this stack of real grain sacks at the 613 Flea a few years ago and would have loved to take them all home! Unfortunately, authentic grain sacks can be pretty pricey so when I can, I just DIY my own.
My Next Grain Sack Project
It was my favourite grain sack look that came to mind when my Mom found these pillows for me (pre-COVID) at Michaels on clearance for less than $2 each!
They were just plain old white and begging for something to be done to them.
The Colour
To start their transformation I knew they needed to be more of an authentic grain sack colour. Grain sacks are usually handwoven from linen and have a distinctive off-white or beige-y colour. To get that colour, I made a bath of one part Miss Mustard Seed's Milk paint in Schloss to 10 parts water.
After mixing the milk paint and water, I let it sit for about 10 minutes (to let the Limestone and clay dissolve) and then popped in the covers off of the pillows.
I wasn't worried if the colour came out uneven as it would make them look old and worn but if you are looking for an even colour, I would wet the pillow covers first.
You can see below that they are a perfect muted linen colour (as compared to the white cloth next to them) and the milk paint bath made some lovely variations in the colour.
Adding the Stripes
Next up was to add some classic stripes. I used low-tack painters tape to make a line down the middle of the cover and then painted it in with Miss Mustard Seed's Milk Paint in Artissimo. Using the paint mixed at full strength for the stripes and monogram (one part mix to one part water) is ideal. If you dilute the paint for detailed work, the excess water will cause the paint to run.
Once the large stripe was dry, I added a thin stripe to each side freehand.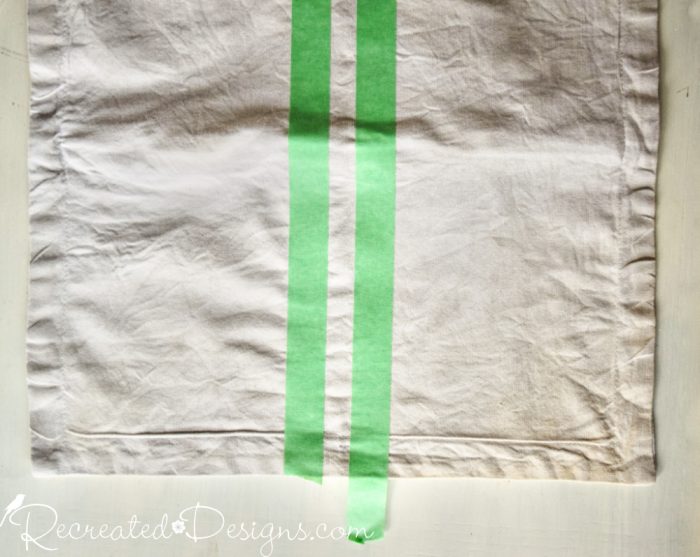 Adding the Monogram
To add the monogram, I used the same method I use on my signs. Since monograms on grain sacks were often stitched in a cross-stitch style, I used a font called Home Sweet Home to design and print out my initials.
With the letters taped in place, I slipped a piece of carbon paper under the letters and traced over each X with a pen.

When lifted, the carbon paper left a nice outline that was perfect to paint.
Using the same paint as the stripes, I painted over each X using a thin artist's brush.
Washing Tip
Once the paint was dry, the pillows covers were ready to slip back on to the pillow forms and put them on the couch.
Just remember… if you want to wash your newly painted pillow covers, wait 30 days. The paint needs 30 days to cure (read why here…) and once that has occurred, you can handwash your pillow covers and the paint will remain in place and not bleed.
For less than $2 a pillow I am so happy with my new monogrammed pillows! As much as I love the authentic thing, paying $50+ a pillow just wasn't in the budget right now. I will still be on the hunt for grain sacks though and maybe one day I'll find a great stash again.
If you love grain sacks as much as I do, here are some of my other grain sack projects and finds…
To see what I found at the Country Living Fair…
One of my very first projects was this $5 chair…