With everyone cooped up inside and facing uncertain futures, we need something happy and bright to focus on for a little while to give ourselves a break. With Easter this week and warmer weather inching closer I think it's time for a little Spring cheer… wouldn't you agree?
Since nothing is physically open where I am, I have challenged myself to sort through and use what I have at home for my creative projects. It's actually been fun to "shop" my house and come up with things to create using only what I have on hand. In fact… it has been so fun that I think I might make a little game of it. I am going to let you all choose what I use for a future project and get in on the fun! I will send more details on that later this week though or can you keep an eye out over on Facebook for more details.
For this project, I picked some things out myself. I grabbed an old door and a new IOD mold that I had picked up, before the home confinement, and came up with something Springy that would add some cheer to my decor.
Vintage Inspired Chalkboard
A few years ago I had purchased two of these really old doors (for $2 each) and even though they were both chewed up, crooked, and holey, I instantly loved them. The wide thick moldings and wear at the bottom was charming and even though I had no idea if the wear was from continually rubbing over something or from someone nibbling on it, I loved them none the less.
I didn't need to do much to get the door I used ready for the project except remove the hardware and give it a good cleaning with soap and water.
Once it was ready, the frame got a very light coat of Annie Sloan Chalk paint in Old Ochre with a loose, natural bristle chip brush. I wanted the paint to look old and worn so didn't worry too much about getting it even or perfect.
For the inside of the door, I wanted it to have a vintage chalkboard look. Using two parts green Milk Paint with one part navy blue it was the perfect old school chalkboard green colour. I also added just a little bit of Ultra Grip to the mix for added stick.
I loooove the green the combination of the two made so much so that I am thinking of adding it somewhere in my house… I'm just not sure where yet…
IOD Mold – He Loves Me
With the door painted and ready to go it was time to move onto the Springy part of the project. Luckily I had the He Loves Me IOD mold on hand and a package of paper clay. If you have not used paper clay and molds before you are missing out! They are so much fun and there is soo much you can do with them!
I always like to dust the mold with corn starch before filling the molds. This will allow the clay to easily pop out of the mold when you go to remove them. This is especially important if your clay is wet and sticky.
With my mold ready to go, I made several molds of each flower and a whole bunch of leaves in both sizes. I laid them out on wax paper when I removed them from the mold to keep them flat.
Painting the Flowers
Wanting my Spring board to have a very vintagey feel, the flowers needed to have muted and worn colours. I mixed up some Milk Paint in yellow, orange, red, and pink for the flowers as well as green and some of the vintage chalkboard colour I had left for the leaves. At a ratio of 4 parts water to one part mix, there was just a hint of colour in the water and it made the paint almost translucent when brushed on.
To add some colour dimension to the flowers, I also brushed on some dry paint mix. While the molds were still wet from the watery paint mixture, I dipped a small paintbrush into the dry paint mix and brushed in over parts of each flower. The chalky mix stuck to the wet surface and added some great texture and colour variation.
I should note that I painted and added the dry mix while the paper clay was still wet. I wanted the paper clay to dry with the paint on it so that the paint would seep into the paper clay while it was set and then they would crack together like they had aged over time.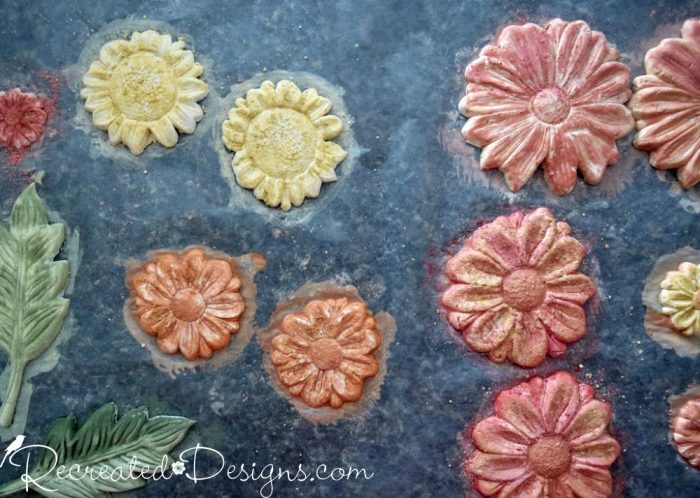 Adding the Flowers
I left the painted flowers and leaves overnight to dry. By the next morning they were not completely dry, but enough that I was able to lay them out on the painted door and arrange them. Once I had them in an order I liked, I brushed on some wood glue to the back of each and stuck them onto the wood.
While the wood glue was drying and the door was laying flat, I finished off the leaves and flowers by adding a little bit of clear and dark wax just to highlight little bits of each one.
A Touch of Spring
I really needed this little bit of Springy cheer in my house and absolutely love the vintage feel the board has. From the distressed paint to the chintzy-looking flowers it all makes my heart happy.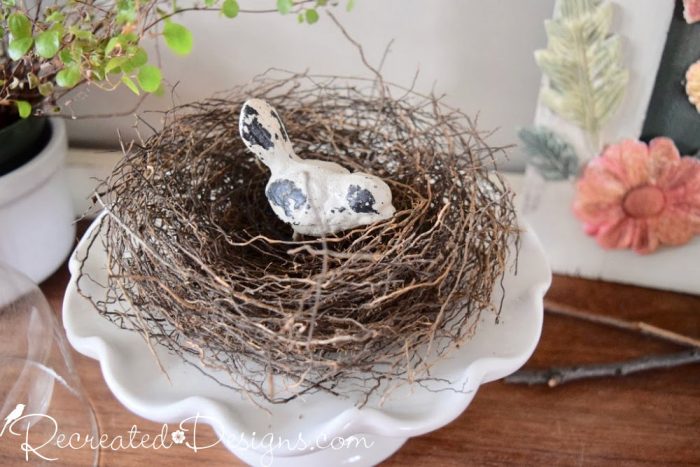 Have you added or created things these past few weeks that make you smile and bring you some good cheer? I would love to hear and see what you have been up to. We are all in this together and that means creating together too!
**Please note that this post includes affiliate links for your convenience. All links are for products that I have tried and use regularly. By using the link, it in no way increases the cost of the item to you should you choose to purchase. However, by using the link, a small portion of the sale is given back to help fund this blog. Thank you and Happy Creating! **
---
Never miss a vintage find, creative project or rustic upcycle again. Join me on my journey here… and be the first to hear all about my upcoming Book release as well;
Cottage Projects With a Vintage Flair.
---
Until next time, I'll see you soon on Instagram or Facebook.