Today I am teaming up with some great bloggers to bring you all things Christmas DIY! If you are hopping over after a visit with Sara at Twelve on Main… thank you for stopping by and welcome!
Christmas will be here before we know it so we wanted to make things fun and get your creative juices flowing. You can check out all of their great projects at the end of my post and hop over to their blogs to see what else you can make this holiday season.
For my Christmas DIY project, I made my annual trees. I love the outdoors so much that every year I make a new type of tree to decorate with. I have made felt trees, paper trees, and even a forest of trees so this year I decided to make string trees.
These little string trees really are quick and simple to make but, be warned, they are a little messy 😉
Prepping to Make the Trees
To get things ready to make your new trees, first make a cone out of several pieces of paper. I made three different sizes so that I could have a variety of trees.
Pull the paper tight to make narrow trees or let it out to make fatter trees. Once you have the cone in the shape you like, tape the edge to keep it together and then trim the bottom so that it sits level on your table.

Next, cover your cone in plastic wrap. Don't worry about making it smooth as the string will cinch it in when you are wrapping it. Tuck the plastic wrap under the bottom of the cone to hold it in place.
Making the Trees
Now comes the messy… I mean… FUN part! Take a length of string and soak it in Mod Podge. I used Matte Mod Podge for my trees and used both white and red string.
How much string you will need will depend on the size of your trees, the thickness of your string, and how dense you want them. Start with a good amount of string and if you run out, you can soak more. I did not cut my sting, as I figured I would need more, so this way it was one continuous piece.
With the string soaked in the Mod Podge, start wrapping the cone. You can start anywhere but be sure to wrap the bottom several times to give it a nice sturdy base. Wrapping the cone in a random pattern will give you tree a more natural look.
Keep adding string and wrapping the cone until you have the thickness you want.
Finishing the Trees
Leave your trees to dry overnight or until the Mod Podge is crispy and hard.
To finish your trees, remove the paper cone first.
Next, carefully peel away the plastic wrap from the dried string and Mod Podge. If it is sticking to the top of the tree, use a butter knife to carefully peel it off.
Once your trees are free from the cones, you can display them as is or add some embellishments. You can even paint one of these gorgeous shades of green if you used a white string: Terrarium, Vintage Laurel or Velvet Palm.
I added little Birchbark stars to one of my trees and love how cute they look. A little dab of glue held each star in place perfectly.
When I was done with my trees, I slipped some twinkle lights inside to give them a little extra sparkle and surrounded them with some beautiful moss.
These little trees are so easy to make and there are so many things you can do with them. The possibilities are endless and they make the perfect addition anywhere you need a little rustic touch.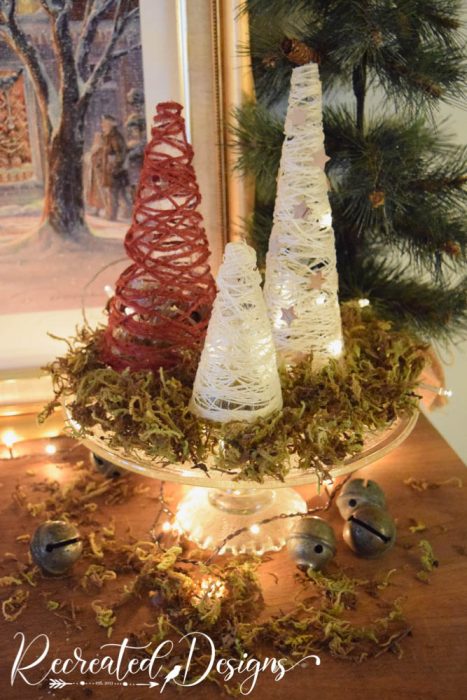 ---
**Please note that this post includes affiliate links for your convenience.

All links are for products that I have tried and use regularly.

By using the link, it in no way increases the cost of the item to you should you choose to purchase.

However, by using the link, a small portion of the sale is given back to help fund this blog. Thank you! **
---
Hearth and Vine / The Little by Little Home / the Gal Down the Road
The Homemaking Momma / Emily's Project List / Twelve on Main
Recreated Designs / Roots and Boots / At Lane and High / Jenron Designs