I found the most gorgeous Christmas paper last week at Malenka Originals when I was there to teach a class!
It is thick and pretty and the colours are quintessentially Scandinavian. Not to mention the vintage feel of the ornaments… it's just perfect!!
I have made book page trees before (you can see one in this post) but wanted to switch it up a bit this year and use this beautiful paper.
To make a paper tree…
Start with a 6″ long piece of a thick tree branch and twig about a foot long.
For the base of the paper tree, drill a hole in the middle of the stump, add a dab of wood glue, and wedge in the twig.
It will take about 50 squares to make a nice full Christmas tree. The largest squares should be about 4.5-5″ and then make them smaller and smaller until the smallest ones are about an inch and a half.
Loosely fold the squares corner to corner and add a little slit going in both directions. The holes should be just big enough to fit the twig through.
Just before feeding the papers onto the twig, crumple each one to add some texture and depth to the tree.
Feed the papers on largest to smallest.
Top the tree off with a pretty bow and it's done!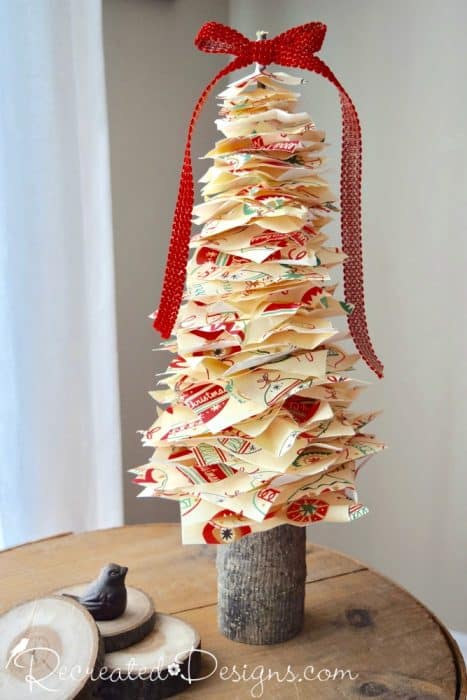 I thought I was smitten with these little trees last year when I made them with book pages but I love them even more with this beautiful paper!
What do you think? Keep your leftover gift wrap and make some of your own little trees this year! Check out more Christmas tree projects here, here, and here…
---
♥♥♥
Win a copy of my new book Cottage Projects With a Vintage Flair! Find all of the details here…
♥♥♥
---
Pin for later…