In the third installment of the Back to the Basics series I want to give you some tips on tools… both the kind you can physically use and the kind that give you the knowledge to complete your project. Having both kinds of tools will help you immensely in whatever you want to accomplish!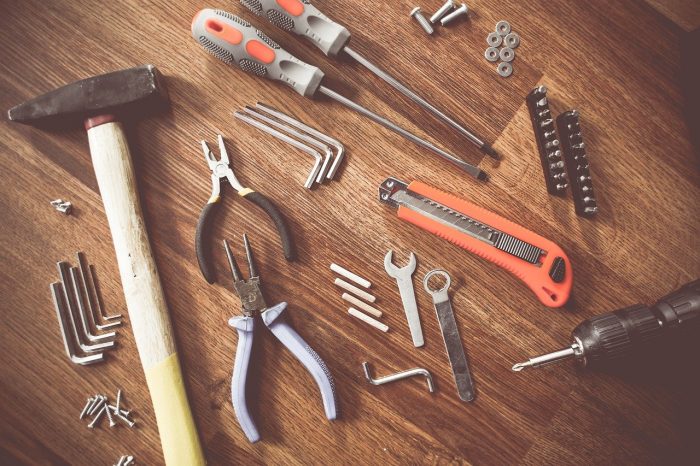 My must-haves…
Let's start with some of my favourite physical tools that are handy to have around when you are working on furniture or home decor projects. The first part of the list is comprised of things that will be used on a regular basis. They are the tools that you will need no matter what type of project you are working on and are generally very inexpensive to have around.
wood glue
wood filler
hammer
screwdrivers
hand saw
glue gun
clamps
sandpaper
rags – old cotton sheets torn up work well
measuring tape
level
painters tape

My all-time favourites…
The second part of the physical tool list is comprised of my favourite power tools. I have very limited space; with no garage or yard, so I choose my power tools very carefully. They have to be multifunctional, small, and mighty.
Cordless Drill – Perfect for pre-drilling holes, tightening screws, and a host of other things.
Staple Gun – Having an electric staple gun makes the job so much quicker and easier than a manual one.
Electric Sander – More efficient than sandpaper and you will get a smoother finish.
Electric Knife – If you are ever going to work with foam, this will cut through it like butter. They are easily found at thrift stores for a couple of dollars and you will not regret having one around.
BladeRunner – This is my very, very favourite tool. I bought mine 5 or 6 years ago and have been in love with it since the first cut. I have cut everything and just about anything on this little powerhouse and for a small space, you just can't go wrong.
Bonus tool…
A little bonus addition to this list that really doesn't fit into either category is my Picture Framer's Point Gun. If you work with vintage or antique frames a lot this tool is incredibly handy. In an instant, you can add points to hold glass or backing in place. It has been a lifesaver for me on many occasions.
The other kind of tools…
Besides physical tools, it is always great to have an arsenal of helpful knowledge "tools" that will give you advice, tips, and tricks on how to get the job done quickly, efficiently, and beautifully. These can be anything from books to websites to videos to classes.
You can find these kinds of tools to help turn your junk into gems from me here…
Videos – DIY Tip of the Day videos
Hometalk Live videos (project-specific ideas)
1-on-1 Consultations – If you need some extra help starting (or finishing) that furniture or home decor project we can do it together.
Book – Packed with creative projects each with its complete set of step-by-step instructions
and of course on the blog where you will find endless DIY projects and inspiration.
This list is in no way a complete list of everything you may need but hopefully, it will get you started in the right direction and give you some ideas if you are looking to add a new tool to your collection.
**Please note that this post includes affiliate links. By using the link, the cost does not increase and a small portion of the sale is given back to help fun this blog. For your convenience, you can also find all of my favourite DIY products here. Thank you and Happy Creating! **
Pin for later…