If you're like me, I am sure you have tacky fall or Halloween decor shoved in a closet that you never pull out anymore. I love a little pop of colour around a holiday, but I'm just not a fan of the bright oranges.
As I was going through my fall decor this year, I thought giving a few of the pieces a little makeover would be fun. This DIY was so easy and made the pieces look so much better.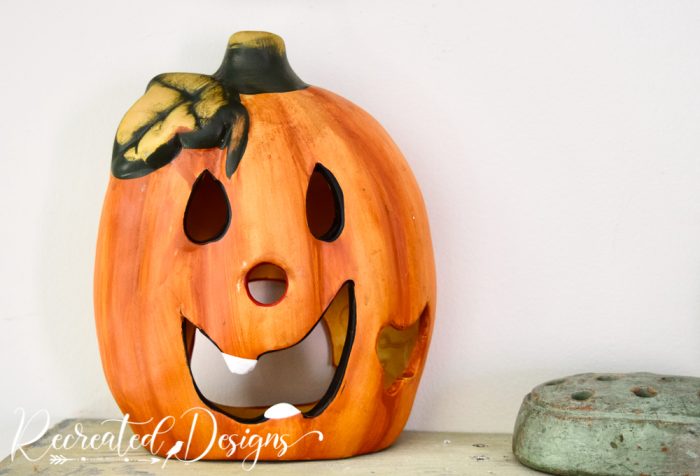 I started with these four pieces. The jack-o-lantern is ceramic, the basket is tin, and the pumpkins are plastic. I absolutely love that I can do this to any surface and make them look old.
The Paint
To create the faux terracotta look that I was going for, I used Annie Sloan Chalk paint in Primer Red. It is the perfect terracotta colour and made a great base colour for each piece.
Once the Primer Red was dry, I brushed on bits of Fusion Damask to add a little dimension.
Aging the Faux Terracotta
To create a worn and weathered look to the pieces they just needed a little white paint over top of the red and pink.
Before adding the white, the little basket got a jack-o-lantern face added. Low-tack painter's tape did the trick.
Then it was time to add the white. I used Annie Sloan Chalk Paint in Pure making sure to push it into all of the lines and crevices of each piece.
With a damp cloth, I lightly wiped it off of the high areas leaving it to setting in the cracks and lines.
I did the same to the basket turned jack-o-lantern and the small pumpkins.
How cute is that little face once the tape is peeled up?
The combo of red, pink, and white completely transformed each of the pieces into something that looks weathered, worn, and old.
The possibilities are endless with this painting technique and you can turn anything (for any season) into aged terracotta.
The softness of the faux terracotta is so much prettier and definitely gives off those farmhouse vibes.
It's not too late to transform those fall or Halloween pieces you still have stuffed away. Grab a little paint and have some fun!