I have been wanting a new shower curtain in one of my bathrooms for quite some time. This particular bathroom is pretty small and doesn't have a window so it can be quite dark. For the past few years, I just had a plain white shower curtain hanging and it was getting pretty worn and kept shrinking in the wash.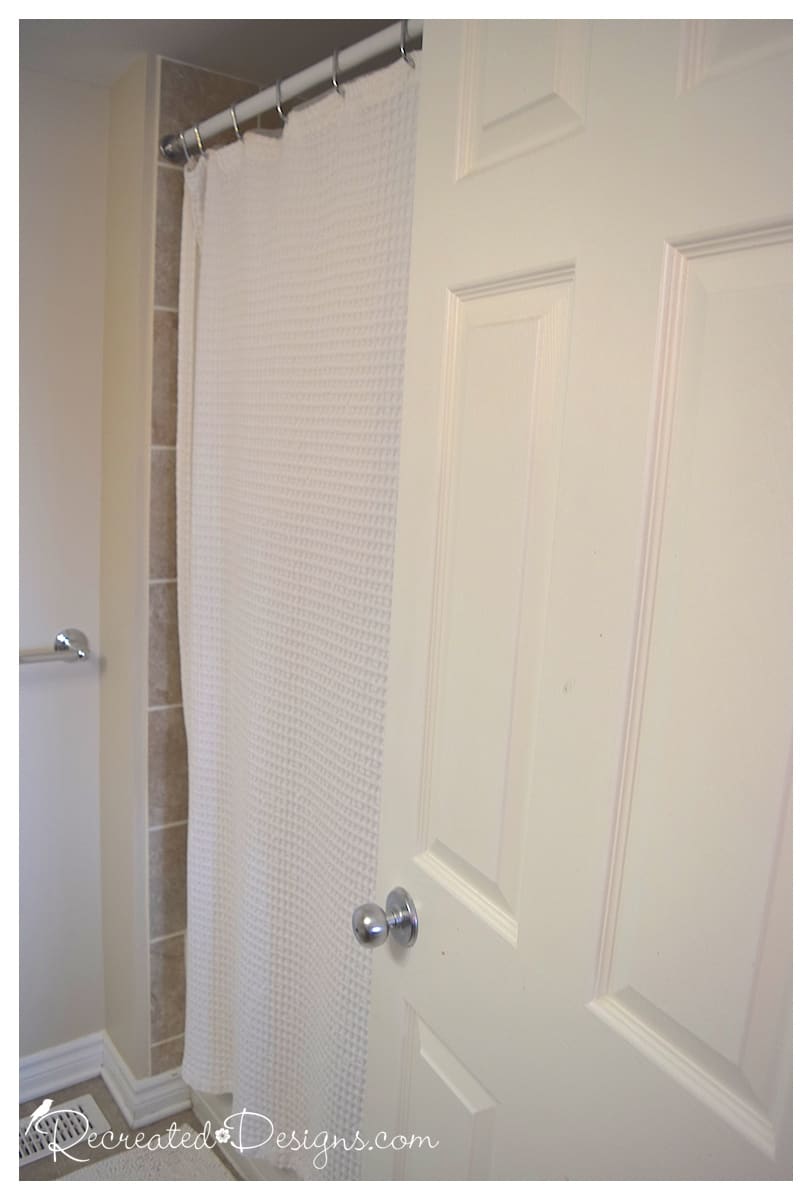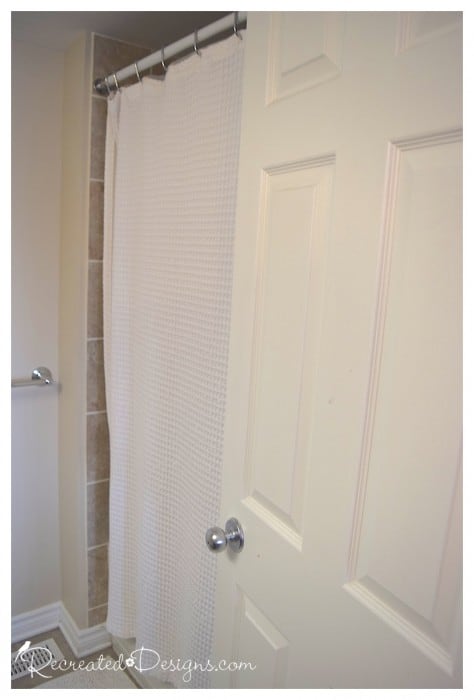 I really wanted a change and to add something that would complement the large picture in there while adding some colour to the small space.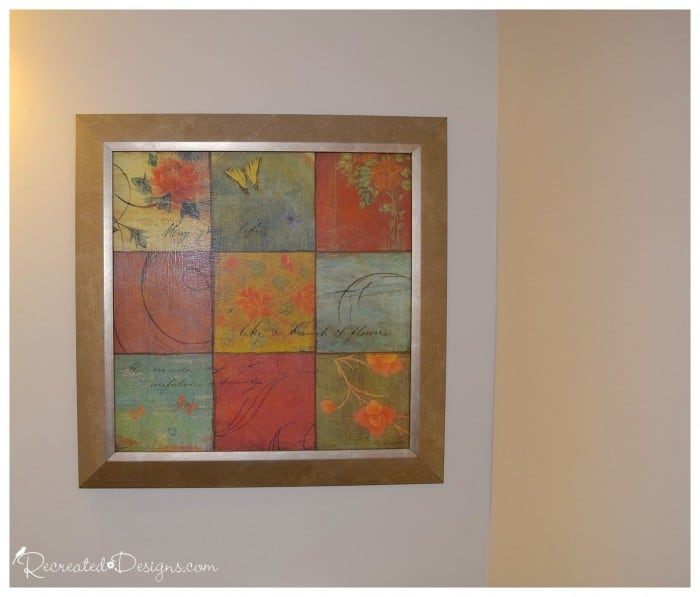 I had found this bolt of muslin for next to nothing last year (literally… it was 90% off!!!) so decided to use some of it to make the new shower curtain. As much as I love the look of natural muslin (I think it is so pretty looking!), I wanted something with some colour for this particular space.
I have used paint to dye fabric before (see that project here) and really liked the look so knew that was the perfect solution to colour the muslin.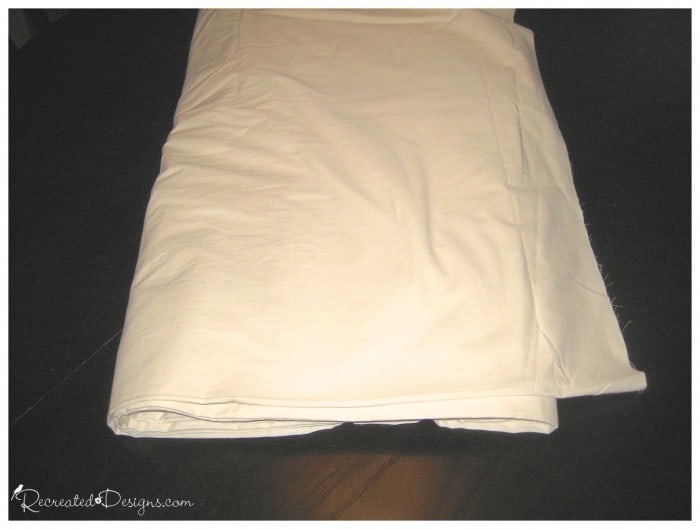 Dying fabric with paint is quite easy but if you are trying to achieve a certain colour, as I was, it may take a little trial and error. I used Country Chic Paint in Cherry Blossom (pink) and an orange colour (that for the life of me, I can't remember the name of) to mix with the water. Tip: do not use latex paint for dying… chalk paints like Annie Sloan or Country Chic or a milk paint like Milk Paint by Fusion.. The lack of latex and acrylic make these paints work best.
To dye the fabric, simply add some of the paint to a bucket of room temperature water, add some table salt (to help set the colour), and drop in the fabric. Make sure to swirl it around to soak up the water and paint and then let it sit for a while depending on how concentrated you want the colour to be. Tip: I would strongly suggest doing this project outside so that you don't have to worry about getting the paint on anything 🙂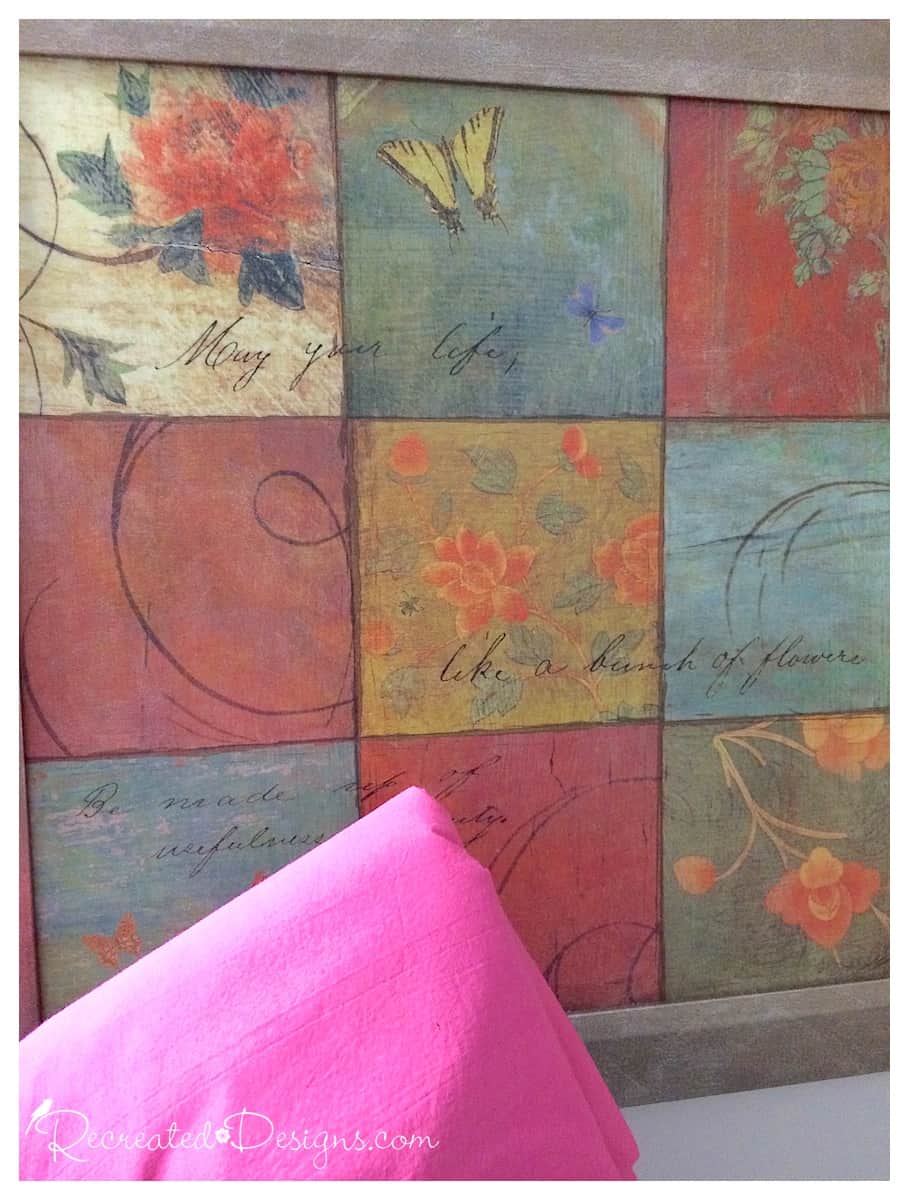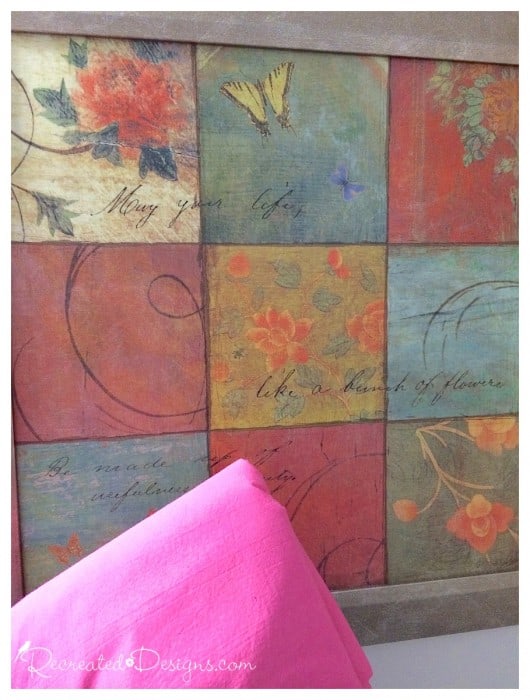 As you can see, my first attempt dried waaaaay too pink. Like I had said, getting the right colour took a little trial and error because I was looking for a specific shade. You can see how vibrant the colour was though just using the paint and water… it really did a fantastic job.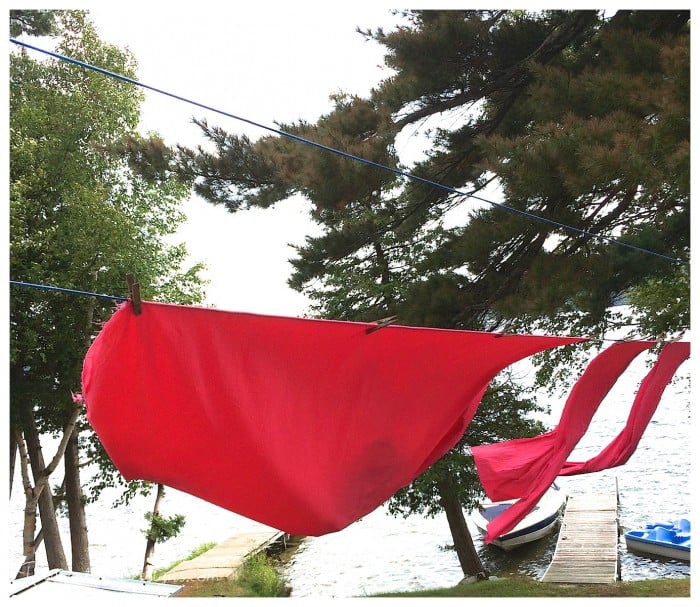 After a few more mixes, I found a shade of coral that looked great with the picture in the bathroom.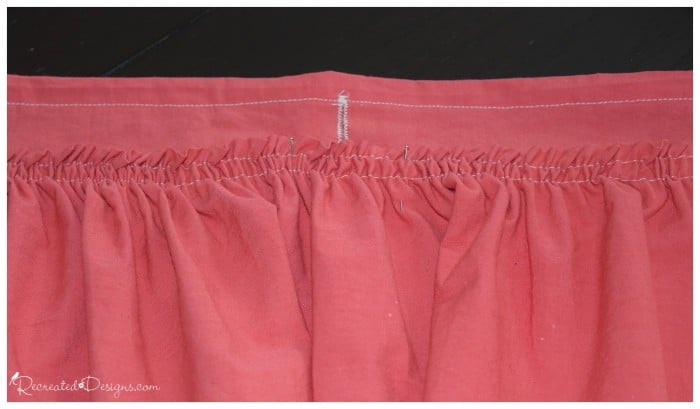 I had pre-cut my pieces into the sizes I would need before dying them so after I got the desired colour, all I needed to do was sew them all together.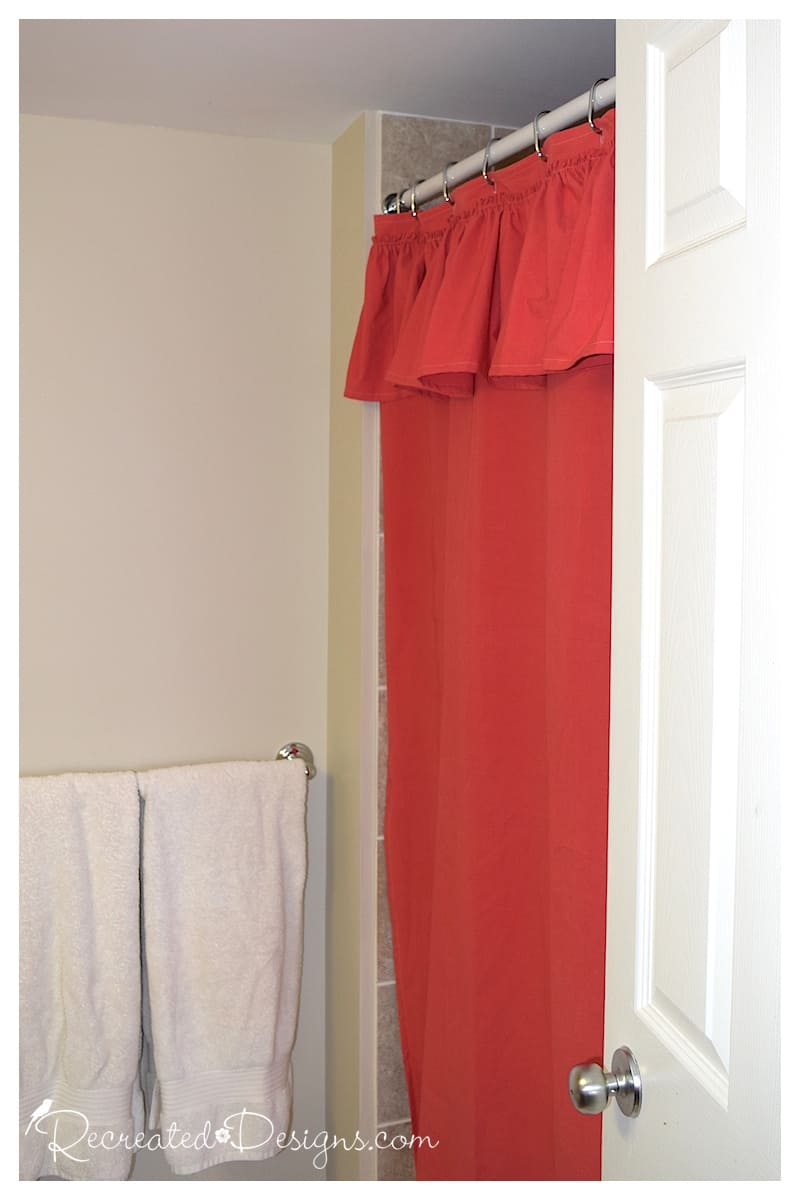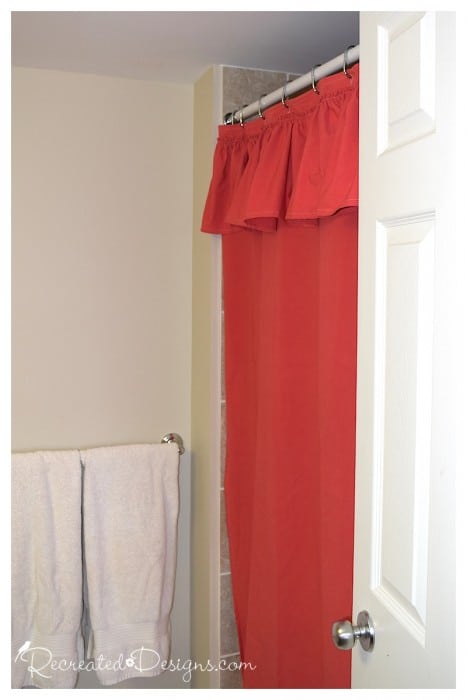 The new shower curtain adds such a wonderful pop of colour to the little bathroom and completely brightens up the space.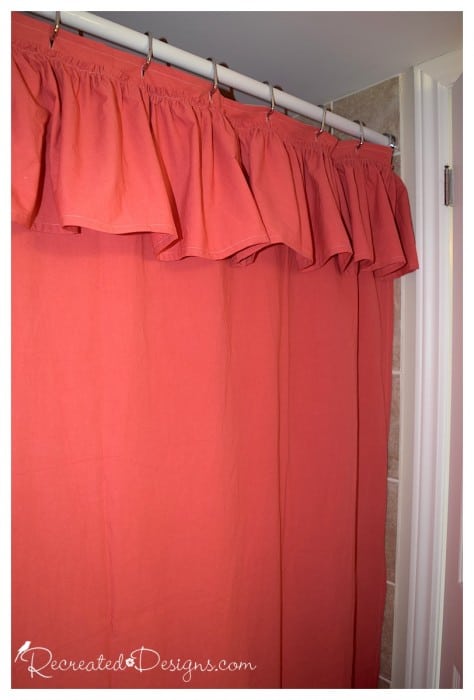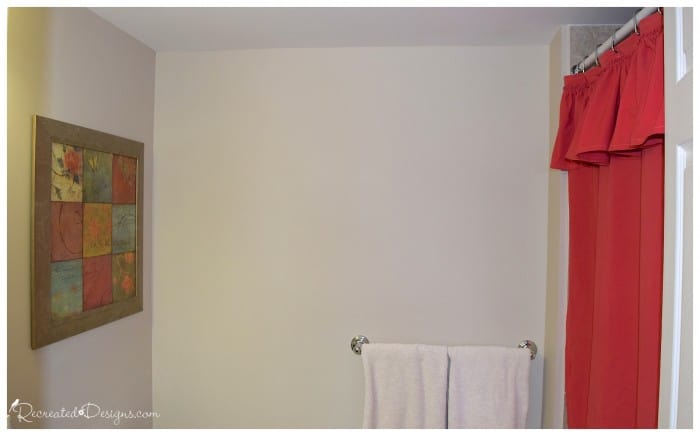 Dying fabric with paint is the perfect way to get a colour that you love and an inexpensive and non-traditional way to use paint in your home. Give it a whirl and if you decide to dye something using paint, please be sure to share it on the Recreated Designs Facebook page so that we can see your wonderful handiwork!
**Please note that this post includes affiliate links for your convenience. All links are for products that I have tried and use regularly. By using the link, it in no way increases the cost of the item to you should you choose to purchase. However, by using the link, a small portion of the sale is given back to help fund this blog. Thank you and Happy Creating! **