During the month of March, I was working on two different pieces that were being donated to charity. I shared the first one with you here and I wanted to show you the second one today.
This piece was recreated for the amazing contest that Habitat for Humanity is currently running to celebrate their 25th birthday in Ottawa! You can win one of 5 different pieces that local furniture artists upcycled and choose whichever one you would like if you win! Isn't that super cool?! The other 4 will be auctioned off after the winner chooses the piece they want. If you would like to enter (and are in the Ottawa area as it would need to be picked up) you can find all of the details here…
The Before
Part of being involved in the contest meant that I had the opportunity to choose a piece of furniture from one of the local Restores to use in my recreation. My mom and I headed out about a month ago and I fell in love with the size and curves of this piece as soon as I started looking around.
When I picked it out my Mom actually said "Lisa! I think this is the ickiest thing you have ever dragged home!" Haha. I have to admit that it was in pretty bad shape. It was wobbly, the drawers were broken and the lip at the back had actually bowed and was separated from the dresser in the middle.
Buuuut… despite all of that, I saw its beauty. It is solid wood with beautiful lines and is completely made my hand – curves and all. I can only imagine the love and hours that went into carving that curvy top drawer and dresser top!
The Transformation
The first thing this piece needed was a good cleaning with some soap and water. Boy was the water diiiirty when I was done. I also did some repairs like screwing and gluing the back lip, removing all of the unique hardware, filling the holes, and adding drawer stops.
Once those things were done it was onto the paint. I knew I would be sanding and distressing the piece so wanted to give it a coat of a nice chocolate colour first so that it would show through and not the orange later on.
The dresser got a light sanding and then a coat of Miss Mustard Seed's Milk paint in Curio. Doesn't it look sooo much better already?!
Once the dresser was a nice dark colour, it was given two coats of Miss Mustard Seed's Milk Paint in Arabesque with a wash in Ironstone over top. With those curvy lines, it just felt like it was meant to be a light and pretty colour.
A little distressing and some new knobs and it was almost ready to go.
The Drawers
The one problem with this dresser, that took a little bit of solving, was the drawers.

With everything being hand-made, the maker must have used whatever boards were on hand. Because of that, there were gaps in between the boards in each drawer.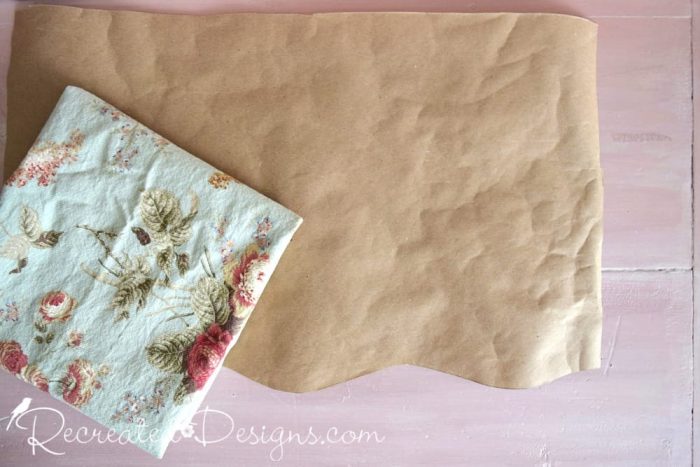 To keep things from falling out, I covered the bottom of each drawer with fabric. I made a paper pattern of each drawer first and then cut the reclaimed fabric slightly bigger and hemmed it.
Upholstery tacks (they were found at the restore too!) held the fabric in place once it was laid in the drawers. The fabric while functional added a beautiful surprise inside each of the drawers.
I couldn't be more thrilled with the transformation of this piece. With those curvy lines and wavy boards, I think pink was definitely the perfect choice. What do you think? Do you agree? Was it meant to be pink?
For as icky as this dresser was when I brought it home, I was sad to see it leave. I really enjoyed the soft pop of pink. It got me to thinking that I may just need to add a little touch of this very popular colour to my home soon!
Be sure to pop over the Habitat for Humanity site and enter to win your choice of pieces and support an amazing organization! And a huge thanks to Habitat for Humanity Ottawa for asking me to be apart of this great event.
**Please note that this post includes affiliate links for your convenience. All links are for products that I have tried and use regularly. By using the link, it in no way increases the cost of the item to you should you choose to purchase. However, by using the link, a small portion of the sale is given back to help fund this blog. Thank you! **