A few weeks ago I was itching to get in the car and have a day away, so, called up my sister and we headed off to the infamous dump stores. It is always so great to just get out of the house (especially when you've been cooped up all winter!) and hit the road in search of treasures. It does the soul good!
Since it was still pretty chilly, there weren't many people at the dumps. I took the opportunity to snap some pics of the buildings so that you can see what they actually look like.
Dump Number One
The first one we hit up has a cute little building. No heat… but none the less, a really little building.
At this dump, I picked up some beautifully coloured vintage books. Old books make great staging props and there are soo many out there that it is pretty easy to grow a collection in colours you like.
I also picked some old ephemera. Ephemera, if you are not familiar with the term, is things like programs and papers that were never meant to be saved for the long-term but have survived. A collection of Christmas music and a Highland Games program from the 70s both came home with me. I have used vintage music before on projects like this one so love having a little stash of it around.
Dump Number Two
At the next dump we stopped at, the "store" is a collection of old shipping containers that are joined together to make a building. Again, they have no heat so it makes the crowd lite but the looking quick so you don't freeze. You'd be amazed how cold these buildings are in the winter!
This time I found some vintage china from Czechoslovakia. I love how unusually low the tea cups are and the delicate blue and pink flowers. There was an entire set but I only took two. I usually only take what I will use so that someone else can have what they might need/want.
I also found this vintage glass pitcher. It was in great shape with no chips it was just in need of a good cleaning. A bouquet of wildflowers from the cottage this summer will look beautiful in it! Come on summer!!
Dump Number Three
Our final stop on our outing was at the largest of the dumps we usually visit. It has several buildings and in the summer also has furniture and items on tables all over the gravel as well. It is usually hopping with people during the warmer weather so it was nice to be able to get a few pics when there were fewer people around.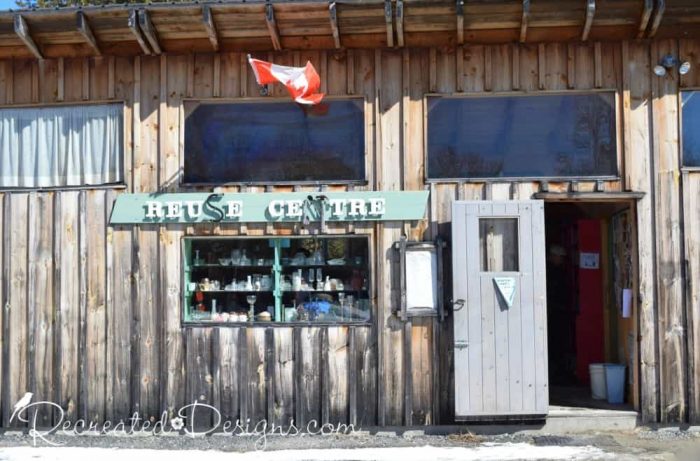 At this stop, I found a box of old, vintage Christmas bulbs. Aren't they so pretty? I am not sure what I'll so with them yet, but maybe turn them into a garland next Christmas. Their vivid colours and large size remind me of my grandparent's Christmas tree growing up so it will be fun to have them around. I have also used them in projects like this one before.
This little wood box was also just begging to be brought home. They are so versatile I can store any number of things in it so I am sure it will be put to good use.
I didn't find any huge pieces this time but I am always happy to pick up some little things; especially when it's all free! Each and every time we go it is an adventure. You just never know what you will find.
And for those of you who love following along with my dump store adventures and makeovers, I have added a tab to the Navigation Bar so that you can easily find all of my dump store finds and projects.
Have a great weekend and if you are out hunting up vintage treasures may you find lovely pieces as well! Happy hunting!