It was the perfect Fall weekend here in Eastern Ontario. The weather was incredibly warm, the leaves were stunningly beautiful, and it was just one of those weekends you didn't want to end. Today was the same so my Mom and I extended the weekend and took a little trip to the Mountain Orchard to do some apple picking.
This was my first trip to this orchard but apple orchards have always been a favourite Fall essential for me. No matter where I have lived, I always try and make time to go apple picking. There is something quintessential fall-ish about hanging out amongst the apple trees enjoying a gorgeous Fall day.
Mountain Orchard was beautiful. It is in a rural area with lots of gorgeous trees around so you not only get to pick apples but you also get to enjoy the scenery.
The trees were abundantly loaded with apples in a number of varieties. Each variety looking and tasting a little different from the others.
The orchard also features a large, corn path that is a joy to walk through. They normally have a corn maze but due to covid this year it was transformed into a path that was just as fun.
The unofficial highlight of the trip though, and not to be missed, were the hot apple cider donuts! Oh were they yummy!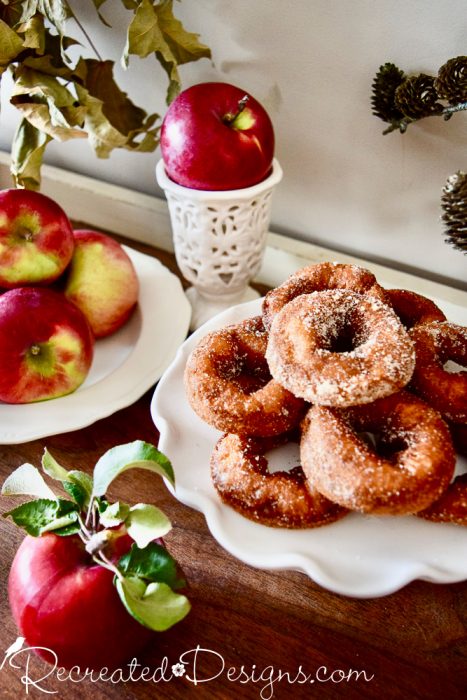 If you live in an area where there are orchards, add one to your to-do list this year or next. You will not regret getting out into nature, picking apples, and enjoying any other Fall treats they may have. A day at the orchard is not to be missed!
If you love apples as much as I do, here are a couple of DIY apple projects you can make this week and still add to your Fall decor…
From Thrifted Cutting Board to Cute Fall Apple Sign
How to Make a Vintage-Inspired Border with a Doily
Happy Fall!