It's no secret that I love vintage art and particularly vintage paint by numbers. There is something nostalgic about them that reminds me of being at the cottage when I was young. I have been collecting them for a few years now and If you follow me on Instagram they are often visible in my home.
When I began collecting vintage art I wasn't really sure what to do with it all. I found many of the pieces for free at the Dump Reuse Centre and just couldn't pass up the handcrafted beauties. When I had enough pieces that I wanted to figure out a way to display them, I decided to begin hanging them up one of my staircases.
Here is my vintage art collection from my Holiday House tour (see it here…)
Each piece in my collection has a different frame, they are all different sizes, and the collection includes both oil paintings and paint by numbers. There are a few things though that tie them all together into a collection – their age, the subject matter, and their colours.
The Newest Addition
The newest addition to my collection is a piece that I painted myself. It is new paint by number that my Mom gave me. Let me tell you… I have a new respect for the hours that went into those vintage paint by numbers now that I have done one myself.
This project took me most of the fall but I absolutely loved working on it.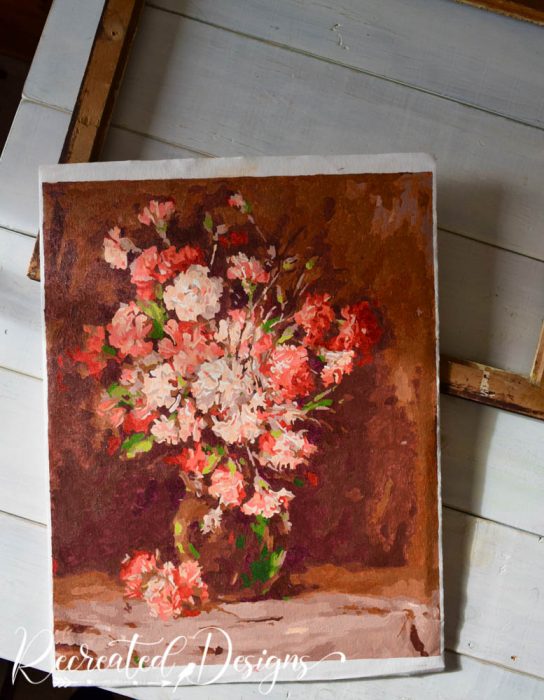 Making it Work
Even though this piece is new, I wanted to add it to my art collection. Instead of using the hanging kit that came with the project, I used a vintage one that I had in my stash and it completely transformed the piece.
The vintage frame instantly took the piece from newly painted to an old masterpiece. By swapping out this one detail, the piece became a part of my collection and fit in with all the rest.
Tips for Creating Your Own Collection
Here are some tips for creating your own collection of things you love…
Group items together – visually it creates a feast for the eyes and adds depth and texture to a space
Don't worry if they aren't all the same – as long as there is one element that ties them all together the rest doesn't matter
A collection has to begin somewhere – even if you only have 2 or 3 items, you are already on your way to a growing collection and it's time to display them
If your collection is displayed on a shelf or mantel use things like books and wood to create different heights
Collect what you love – don't worry about trends or what looks right; if you love it, that's all that matters
Remember that a collection is always evolving – you can add to it, take away from it or go in a completely different direction anytime you want
My Favourite Part
My favourite part of my vintage art collection so far (and it is far from being done!)? There is now a vintage paint by number that my Mom did when she was young…
and a new paint by number that I did…
Do you have something you love to collect?