With winter in full swing, we all need a little bright and cheery in our homes… I know I do at least. Last Sunday I shared my newly finished paint-by-number and my collection of vintage art and this week I want to show you how you can make your own gorgeous art using a vintage mirror.
You can use any mirror for this project but one with a lot of detail will help to create the look of an old-world art piece.
I used the mirror below. My cousin picked this up for me a few years ago, and, like most things in my stash, it has been patiently waiting for its recreation.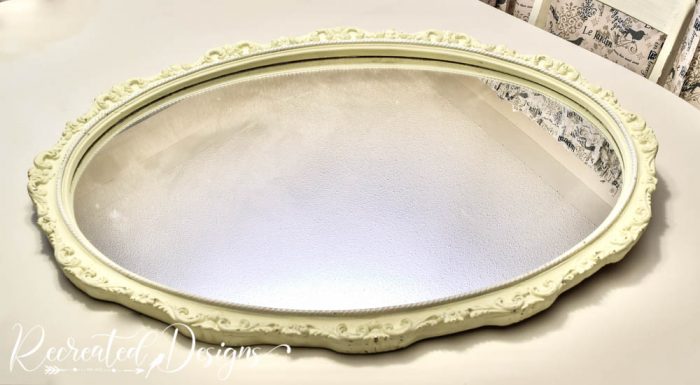 The details on this mirror are absolutely lovely so it was the perfect choice for this project.
You don't have to be an artist to create a stunning piece of art… you just have to find a picture you love! I found some amazing decoupage papers from Mint by Michelle and chose this one called Poppies for my project. Its bright, beautiful colours are perfect for cheering up long winter days.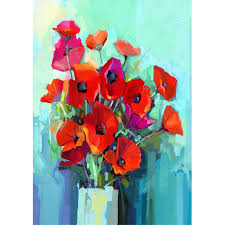 Painting the Mirror
The key to creating a gorgeous, old-world piece of art is layering. You want the details on the mirror to pop and look like an old gilded frame.
To start, paint the mirror frame in a chalky black paint like Annie Sloan's Athenian Black.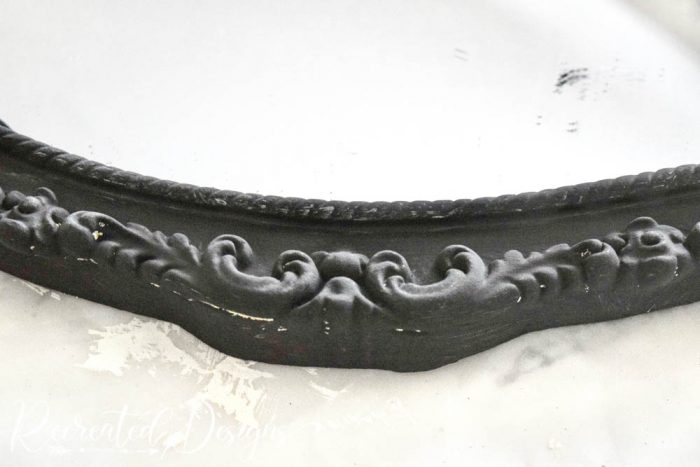 Now that there is a good base, the layering begins.
Use a colour that compliments the picture you have chosen. I used Royal Designs stencil cream in Metallic Teal. To apply this layer, use a small detail brush and lightly brush the cream onto some of the high points and push it into some of the low points.
Next, use a larger brush to add silver or gold. Don't worry about completely covering the frame. You want the other two layers (black and blue) to show through. For this layer, I used Royal Design Stencil Cream in Vintage Gold.
How stunning are those details now that you can see them all?!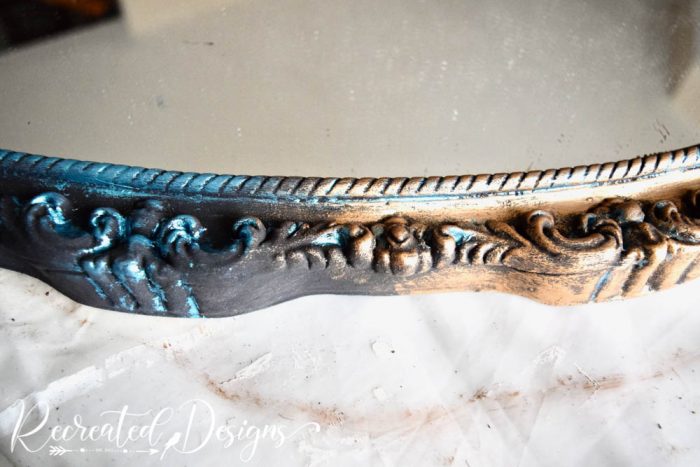 Adding the Picture
With the mirror frame finished, it is time to add the picture to the middle. Start by brushing on a decoupage or image transfer medium all over the mirror. I used Annie Sloan Image Medium.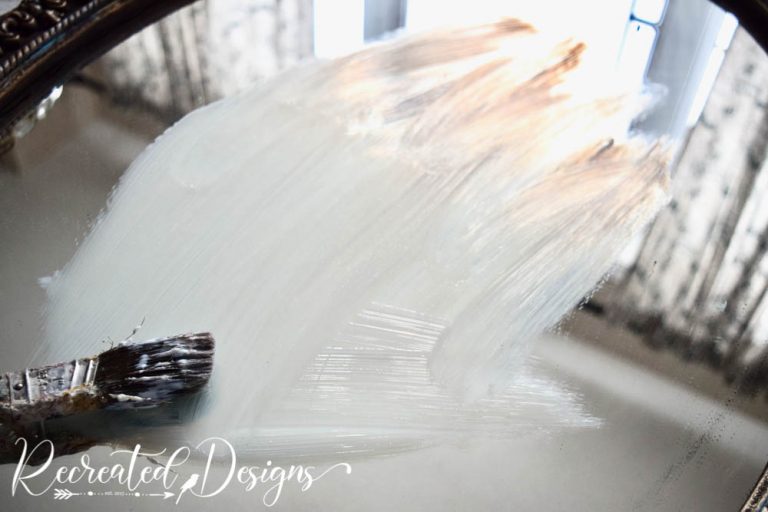 Lightly lay your paper on top of the image medium, positioning it where you want it.
Use a piece of scrunched up plastic wrap to smooth out the paper. The plastic wrap will help to keep the paper from ripping. There will be wrinkles in the paper with this method but personally, I love those as they give the piece texture and depth.
Once you have your paper adhered to the mirror, you may need to trim the edges. This is the only part of the project I found a bit cumbersome. I trimmed my paper after adhering it but next time, I think I will trim it as much as possible before I start.
Lastly, brush on another layer of image medium, and allow it to completely dry.
New Art from an Old Mirror
To finish off my piece, I added a small layer of gold to the edge of the paper. This just helped to hide any little bits that didn't quite make it to the edge of the mirror.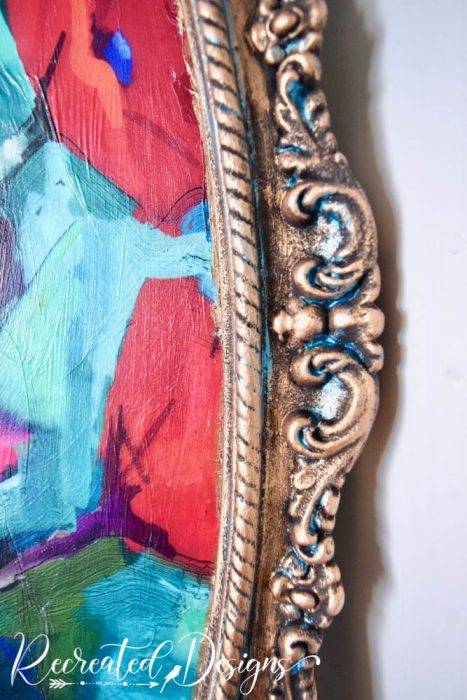 I am absolutely thrilled with how gorgeous the details are how much the mirror looks like an old gilded frame now.
You wouldn't even know it was the same $3 garage sale mirror…
If you want to try your hand at making your own new piece of art, the Mint by Michelle papers come in a huge variety of styles, sizes, and pictures. You can see (and purchase) them at Malenka Originals here(as well as everything else I used in this project).
Just a side note… this is not a sponsored post or one with affiliate links; just a product that I found and loved so wanted to share 🙂
Pin for Later…