One of the last things I wanted to do to finish my Living Room refresh was to give the old wood trunk a little paint job. It has sat in the corner of the room for a few years and with things getting moved around, found a new home behind the couch.
While I am normally a sucker for old wood and chippy paint, the trunk was too heavy feeling and, frankly, dirty the way it was. With the room having a more light and airy attitude after adding the mural and shelves it just didn't seem to feel right anymore.
Milk Paint to the Rescue Again
Thankfully, this was one job that was quick and easy. I loved that the trunk had many layers to it and wanted to keep that vibe so I layered several colours of milk paint over the old finish.
The first coat was a layer of Velvet Palm Milk Paint. It was a gorgeous deep, moody green even though it looks a little lighter over the dark wood in this picture.
The final coat of paint was the same colour as the shelves I added a few weeks ago. I fell in love with the colour (Vintage Laurel) and wanted to use it somewhere else and this was the perfect spot.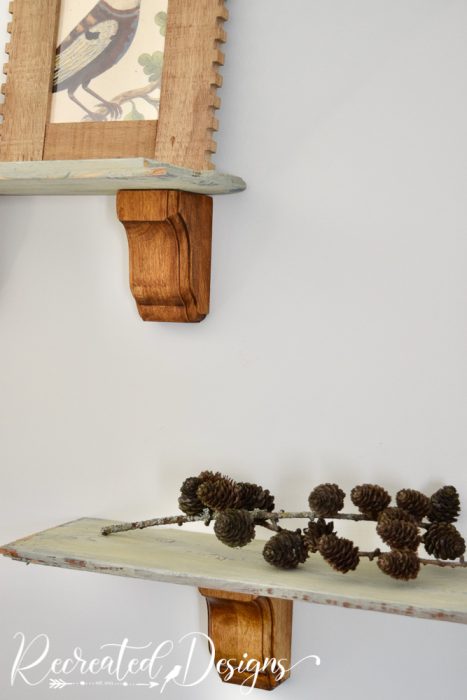 The Vintage Laurel Milk Paint only needed one coat as well and finished the trunk off beautifully. You can still see bits of the original wood and paint, as well as the Velvet Palm colour, through the top layer of Vintage Laurel.
To give the paint a little protection (and nourish the wood) I rubbed on a coat of Hemp Oil before returning the trunk to its new home.
Even though I loved the colour of the old wood trunk, the lighter colour feels so much better in the space now.
And… as luck would have it, I found this great vintage toolbox at the thrift store last week! It is the same colour as the Vintage Laurel paint and has been used and loved by someone for a long time.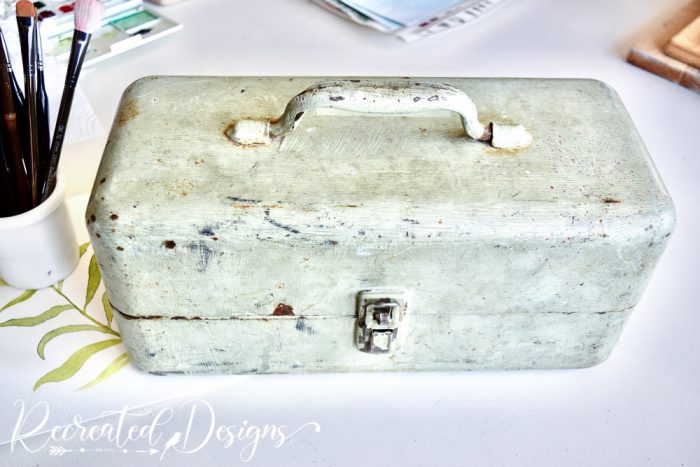 I think it is going to be the new home for my watercolour supplies. What a find for $10!
Now that the living room is done, I think it is time to do a little painting on paper instead of furniture LOL.
On another note, I wanted to say a huge thank you to everyone who took the time to fill out my survey yesterday. Your feedback is invaluable and for so many of you to take the time to pass along your thoughts means the world to me!
Thank you so much ♥
---
**Please note that this post includes affiliate links for your convenience. All links are for products that I have tried and use regularly. By using the link, it in no way increases the cost of the item to you should you choose to purchase. However, by using the link, a small portion of the sale is given back to help fund this blog. Thank you and Happy Creating! **
---